"Scourge"
Elsweyr Chapter
Table of Contents
Introduction
Welcome to the Necromancer Healer Build PvE "Scourge" for Elder Scrolls Online. Make sure to bookmark the link as I will keep updating the build for each new Update of ESO. The Scourge Necromancer build is created for Trials & Dungeons.
The Necromancer healer functions similar to the other healer specs. Like always healers have to adjust depending on the situation and the group they play with. There are a few very viable set combos that you can choose from, so the one you see below is just one possible option.
If you are new to ESO, please make sure to also read the New Player Beginners Guide and the Magicka Necromancer Beginners Guide.
Necromancer Class
Dungeon, Arena & Trial Build
Insane Healing
Insane Sustain
Light Armor
Group Support
Changes to the previous version
This build was added with the Elsweyr Chapter.
Resource Management
This setup has a lot of built in sustain through the Atronach Mundus Stone which gives Magicka Recovery, two Magicka Recovery Glyphs and we also run the Witchmother's Potent Brew which also increases our Magicka Recovery. Now you want to make sure to keep up your Spirit Guardian because of your Undead Confederate passive. The Spirit Guardian has a 16 seconds duration, so it should be fairly easy to keep up.
Trials & Dungeons Setup
Gear
In addition to the setups below, here is a list with other very good Healer sets that you can use:
Gear Setup 1
Gear Setup 2 Beginner
Where can I get the gear?
Vestments of Olorime: Cloudrest
The Worm's Raiment: Vaults of Madness
Timeless Blessing: Asylum Sanctorium
Other useful sets:
Healing Mage (Mending): Aetherian Archive
Earthgore: Bloodroot Forge
Spell Power Cure: White Gold Tower
Sanctuary: Banished Cells
Jorvuld's Guidance: Scalecaller Peak
Kagrenac's Hope: Craftable In the Earth Forge (You must have completed the Fighters Guild quest line to have access to craft this Set. Requires 8 Traits to craft pieces of this Set)
Willpower: Imperial City Vaults, Guildstore
Master's Restoration Staff: Veteran Dragonstar Arena
The Maelstrom's Lightning Staff: Maelstrom Arena
Torug's Pact: Craftable (Requires 3 Traits)
Chokethorn: Elden Hollow 1
Skills
| Restoration Staff Mainbar | Shock Staff bar |
| --- | --- |
| Slot 1: Resistant Flesh | Slot 1: Elemental Blockade |
| Slot 2: Combat Prayer | Slot 2: Unnerving Boneyard |
| Slot 3: Healing Springs | Slot 3: Elemental Drain |
| Slot 4: Expunge and Modify | Slot 4: Spirit Guardian |
| Slot 5: Energy orb | Slot 5: Summoner's Armor |
| Ultimate: Renewing Animation | Ultimate: Aggressive Warhorn |
Abilities:
Resistant Flesh: This ability is your burst heal, it also gives resistance to the player that receives the heal.
Combat Prayer: This needs to be on the group members all the time to heal them and increase their damage by 8%.
Healing Springs: This is your main healing tool, its pretty cheap and heals a lot over time.
Expunge and Modify: You can cleanse debuffs and regain resources with this ability. For example you can cleanse the debuff you get from Resistant Flesh
Energy Orb: Make sure to spam these from time to time so your group members can use the Synergy to regain resources.
Renewing Animation: This is one of the strongest ultimates, if you are the last standing member, make sure to activate this to resurrect them all at the same time!
Elemental Blockade: Keep this on the ground as much as possible, when that Elemental Shock Blockade is on the ground with your charged trait, concussion and off balance will almost proc on cooldown, increasing group DPS by a lot.
Unnerving Boneyard: Allies can use a Synergy when this is active, and this is also used to proc Olorime on the backbar.
Elemental Drain: This ability needs to be on the enemy as much as possible, it debuffs their Spell Resistance and gives Magicka Steal to your whole group, increasing sustain by a lot.
Spirit Guardian: Keep this up at all times, this heals for a lot and also activates the passive so you gain 200 Magica Recovery all the time.
Summoner's Armor: You also must keep this up all the time, gives you more resistances and also keeps the passive active so you receive 10% less damage from DoTs.
Aggressive Warhorn: This is your main Ultimate, it buffs the groups resources and increases the critical damage modifier for 10 seconds.
Other useful skills:
Mutagen: Can be a nice heal over time.
Harness Magicka: If you do need a shield to bolster incoming damage, then use this skill.
There is also a few more, in the end make sure you feel comfortable with your build so you can do your best keeping your group alive!
Championpoints
Championpoints [810]
The Ritual
23 Thaumaturge
The Atronach
The Apprentice
100 Blessed, 72 Elfborn, 26 Spell Erosion, 49 Elemental Expert
The Shadow
30 Tumbling, 46 Shadow Ward
The Lover
75 Arcanist, 75 Tenacity
The Tower
44 Warlord
The Lord
The Lady
49 Hardy, 49 Elemental Defender, 48 Thick Skinned
The Steed
81 Ironclad, 43 Spell Shield
Championpoints [600]
The Ritual
The Atronach
The Apprentice
100 Blessed, 72 Elfborn, 27 Elemental Expert, 1 Spell Erosion
The Shadow
10 Tumbling, 39 Shadow Ward
The Lover
75 Arcanist, 49 Tenacity
The Tower
27 Warlord
The Lord
The Lady
49 Hardy, 49 Elemental Defender, 23 Thick Skinned
The Steed
61 Ironclad, 18 Spell Shield
Championpoints [300]
The Ritual
The Atronach
The Apprentice
61 Blessed, 40 Elfborn, 1 Spell Erosion
The Shadow
The Lover
49 Arcanist, 49 Tenacity
The Tower
2 Warlord
The Lord
The Lady
23 Hardy, 23 Elemental Defender, 23 Thick Skinned
The Steed
31 Ironclad
Important Info for Magicka Necromancer Healer Build PvE
Buff-food
Ideally you want to use the Clockwork Citrus Filet as it provides you with a little bit extra Magicka and Health. However, that food is quite expensive, the other option is Witchmother's Potent Brew that has similar stats.
Clockwork Citrus Filet (Max Health, Max Magicka, Magicka Recovery, Health Recovery)
or
Witchmothers Brew Drink (Max Health, Max Magicka, Magicka Recovery)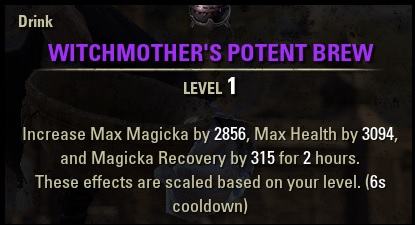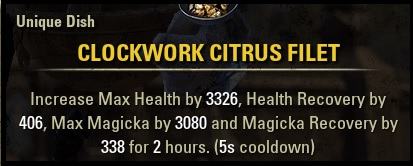 Mundus Stone
The Atronach gives us a lot of extra Magicka Recovery which we need to keep using abilities, make sure to get it!
The Atronach ( Increased Magicka Recovery)
Race
All the four races listed below are good healers. If you want to learn more about the different racial passives that each race offers, check out my Race Guide which explains everything in detail.
Breton (Recommended, best sustain)
Altmer
Argonian
Dark Elf
Potions
Spell-Crit Potions
(Spell-crit, Spell Damage, Magicka)
(Cornflower, Ladys Smock, Water Hyacinth)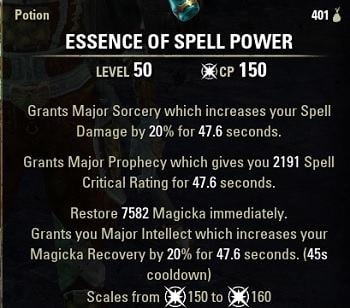 Passives
Grave Lord: Reusable Parts, Death Knell, Dismember, Rapid Rot
Bone Tyrant: Death Gleaning, Disdain Harm, Health Avarice, Last Gasp
Living Death: Curative Curse, Near-Death Experience, Corpse Consumption, Undead Confederate
Destruction Staff: Tri Focus, Penetrating Magic, Elemental Force, Ancient Knowledge, Destruction Expert
Restoration Staff: Essence Drain, Restoration Expert, Cycle of Life, Absorb, Restoration Master
Light Armor: Grace, Evocation, Spell Warding, Prodigy, Concentration
Heavy Armor: Resolve, Constitution, Juggernaut
Fighters Guild: Banish the Wicked,
Mages Guild: Mage Adept, Everlasting Magic, Magicka Controller, Might of the Guild
Psijic Order (Optional): Clairvoyance, Spell Orb, Concentrated Barrier, Deliberation
Undaunted: Undaunted Command, Undaunted Mettle
Racial: All
Alchemy: Medicinal Use
Attributes
All into Magicka
Build Video
The Build Video is from VanaEvr, make sure to subscribe to her. The build can differ a bit, but it should give you a general idea about the Necromancer Healer Setup.
PvE Necromancer Healer Build 'Hex' – Elsweyr – ESO
Update Log
12.05.2019 Added the Necromancer Healer Build for the Elsweyr Chapter.