"Curse"
Elsweyr Chapter
Table of Contents
Introduction
Welcome to the Magicka Necromancer Build PvE "Curse" for Elder Scrolls Online. Make sure to bookmark the link as I will keep updating the build for each new Update of ESO. The "Curse" build is made for PvE Trials, Arenas and Dungeons.
Changes from the previous version
TBA
Resource Management
TBA
Trials & Dungeons Setup
Gear
You will find 3 different setups here. Setup 1 is the preferred setup. For people that do not have all the gear yet can use the Setup 2 which is easier to obtain and beginners can use Setup 3.
Setup 1 is with Trial Gear
Setup 2 is without Trial Gear
Setup 3 is for Beginners
Gear Setup 1
Gear Setup 2
Setup 3 Beginner
Where can I get the gear?
Perfect Mantle of Siroria: Cloudrest
Mantle of Siroria: Cloudrest
Mother's Sorrow: Deshaan
Spell Strategist: Rewards of the Worthy, Guildstore
Valkyn Skoria: City of Ash 2
Law of Julianos: Craftable
Magnus' Gift: Craftable
Willpower: Imperial City Vaults/ Guildstore
Asylum Perfected Inferno Staff: Asylum Sanctorium
Zaan: Scalecaller Peak
Maelstrom Inferno Staff: Maelstrom Arena
Skills
| Fire Staff Mainbar | Fire Staff bar |
| --- | --- |
| Slot 1: | Slot 1: Blockade of Fire |
| Slot 2: | Slot 2: |
| Slot 3: | Slot 3: Harness Magicka |
| Slot 4: | Slot 4: |
| Slot 5: | Slot 5: Channeled Acceleration |
| Ultimate: | Ultimate: |
Championpoints
If you need optimized defensive Champion Points for a specific trial I recommend checking out my Maximize Damage Mitigation in Trials Article.
Championpoints [810 CP]
The Ritual
75 Thaumaturge
The Attronarch
48 Master-at-Arms, 6 Staff Expert
The Apprentice
56 Elemental Expert, 56 Elfborn, 29 Spell Erosion
The Shadow
52 Tumbling, 52 Shadow Ward
The Lover
100 Arcanist, 23 Tenacity
The Tower
43 Warlord
The Lord
The Lady
49 Hardy, 49 Elemental Defender, 48 Thick Skinned
The Steed
81 Ironclad, 43 Spell Shield
Championpoints [600 CP]
The Ritual
44 Thaumaturge
The Attronarch
40 Master at Arms,
The Apprentice
49 Elemental Expert, 37 Elfborn, 30 Spell Erosion
The Shadow
20 Tumbling, 20 Shadow Ward
The Lover
75 Arcanist, 49 Tenacity
The Tower
36 Warlord
The Lord
The Lady
42 Hardy, 42 Elemental Defender, 40 Thick Skinned
The Steed
52 Ironclad, 24 Spell Shield
Championpoints [300 CP]
The Ritual
31 Thaumaturge
The Attronarch
20 Master at Arms
The Apprentice
27 Elemental Expert, 20 Elfborn, 2 Spell Erosion
The Shadow
The Lover
49 Arcanist, 49 Tenacity
The Tower
2 Warlord
The Lord
The Lady
23 Hardy, 23 Elemental Defender, 23 Thick Skinned
The Steed
31 Ironclad
Important Info for Magicka Necromancer Build PvE
Here you can find information about what race, buff-food, potions & poisons you want to use. I also do list all the passives that you need for this setup.
Buff-food
Solitude Salmon Millet Soup (Max Magicka, Max Health)
or
Clockwork Citrus Filet (Max Health, Max Magicka, Magicka Recovery, Health Recovery)
Mundus Stone
Thief Mundus (Increased Spell Critical)
Race
Khajiit
Darkelf
Altmer
Breton
Potions
Spell-Power Potions
(Spell-crit, Spell Damage, Magicka)
(Cornflower, Ladys Smock, Water Hyacinth)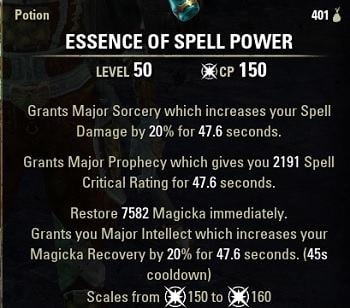 Passives
TBA
Attributes
All into Magicka
Rotation & Skeleton Parse
Rotation
TBA
Skeleton Parse
TBA
AoE Damage
Blackrose Prison Arena
This section of the build is dedicated to the Blackrose Prison Arena, it is a bit different compared to the usual Trial and Dungeon setup due to how the Arena works and because you fight such a huge amount of enemies each wave.
Gear Setup
Alternative Gear Setups
Skill Setup
Gear Setup
Alternative Gear Setup
TBA
Skills
Maelstrom Arena
If you are new to Maelstrom Arena, I highly recommend checking out the full Maelstrom Arena Veteran Guide! Always make sure to start a new wave off with a Heavy Attack to restore a lot of resources! If you still have resource issues use Clockwork Citrus Filet Food.
Gear
Skills
Build Video & Gameplay
Build Video
TBA
Gameplay
TBA
Update Log