"Curse"
Elsweyr Chapter
Table of Contents
Introduction
Welcome to the Magicka Necromancer Build PvE "Curse" for Elder Scrolls Online. Make sure to bookmark the link as I will keep updating the build for each new Update of ESO. The "Curse" build is made for PvE Trials, Arenas and Dungeons. Necromancer is the new class that has been released with the Elsweyr Chapter. Necromancer stands out due to abilities and passives like Glacial Colossus, Unnerving Boneyard, Stalking Blastbones, Death Knell, Last Gasp and Undead Confederate that make them very powerful. On top of that, the extra 2000 health and the extra 1500 Spell Penetration will give you a huge advantage over other classes.
If you are new to ESO, please make sure to also read the New Player Beginners Guide and the Magicka Necromancer Beginners Guide, there are a lot of Beginner Guides that you can check out.
Necromancer Class
High single target (ST) damage
High ranged & melee damage
Crazy area of effect (AoE) damage
Good sustain
Easy survivability due to magicka shield
Trials, Dungeons and Maelstrom!
---
Changes from the previous version
This build has been added with the Elsweyr Chapter.
Resource Management
Magicka Necromancers have good sustain, you already have a very nice built in passive called Undead Confederate that gives you a huge boost in combination with Clockwork Citrus Filet. If you combine this with our Spell Power Potions, you already can reach around 2000 Magicka Recovery which is more than enough for most dungeons and trials! And the passive will always be up because we keep our Skeletal Arcanist up a 100% of the time. If you still need more sustain you can always slot a Magicka Drain Enchantment or do a few heavy attacks between your rotations. Mystic Siphon also helps you to restore Magicka while you are dealing damage to the enemy.
Clockwork Citrus Filet (Witchmothers Brew)
Magicka Drain Enchantment (optional)
---
Trials & Dungeons Setup
Gear used: 5x Perfect False God's Devotion, 5x Mother's Sorrow, 2x Zaan, Breton with Bloody Mara Drink
Unbuffed: Out of combat no buffs.
Buffed: All raidbuffs from the Target dummy plus Potions and Weapon Damage Enchantment.
Gear
You will find 3 different setups here. Setup 1 is the preferred setup. For people that do not have all the gear yet can use the Setup 2 which is easier to obtain and beginners can use Setup 3.
Setup 1 is with Trial Gear
Setup 2 is without Trial Gear
Setup 3 is for Beginners
You can find more good sets for magicka specific setups in the Magicka DPS Sets article with explanation of each set. Keep in mind not all sets are good for every situation. Siroria for example is only good if you can keep up the 20x stack, if you keep dropping it you possibly want to choose another set instead of Siroria in that situation.
Gear Setup 1
Perfected False God's Devotion is one of the new top sets. It provides similiar stats to Julianos but in addition also gives you 8% cost reduction all your Spells! That way we can run Bloody Mara Drink (Gold Drink) and get way more Max Magicka and Max Health.
Gear Setup 2
Setup 3 Beginner
Where can I get the gear?
Perfect False God's Devotion: Sunspire vet
Perfect Mantle of Siroria: Cloudrest
Mother's Sorrow: Deshaan
Spell Strategist: Rewards of the Worthy, Guildstore
Valkyn Skoria: City of Ash 2
Law of Julianos: Craftable
Magnus' Gift: Craftable
Willpower: Imperial City Vaults/ Guildstore
Asylum Perfected Inferno Staff: Asylum Sanctorium
Zaan: Scalecaller Peak
Maelstrom Inferno Staff: Maelstrom Arena
Skills
With the Necromancer you want to make sure that you have enough corpses on the ground when you activate certain abilities to buff their damage output. Also make sure to have enough Necromancer abilities on the front bar because of the Death Knell passive for execute.
| Fire Staff Mainbar | Fire Staff bar |
| --- | --- |
| Slot 1: Mystic Siphon | Slot 1: Blockade of Fire |
| Slot 2: Skeletal Arcanist | Slot 2: Unnerving Boneyard |
| Slot 3: Ricochet Skull | Slot 3: Harness Magicka |
| Slot 4: Stalking Blastbones | Slot 4: Channeled Acceleration |
| Slot 5: Inner Light | Slot 5: Inner Light |
| Ultimate: Shooting Star | Ultimate: Glacial Colossus |
Skills Explanation
Shocking Siphon: Deals good damage and restores 2880 Magicka over 12 seconds. This ability needs a CORPSE to be activated.
Unnerving Boneyard: Deals really good AoE damage, make sure that you activate this ability while a CORPSE is on the ground to get the 20% damage boost!
Ricochet Skull: This is your main spammable ability, every 3rd cast deals 20% more damage.
Stalking Blastbones: This is a strong single target and AoE ability which also provides a corpse for your other abilities. It is your main source of corpses, make sure to remember it takes 2.5s to activate and another 0.5s to run to the enemy depending on your distance.
Inner Light: Increases your total Max Magicka by 7%, 5% from the skill and another 2% from the Magicka Controller passive.
Shooting Star: Increases your Max Magicka by 2% due to the Magicka Controller passive.
Blockade of Fire: This needs to be on the ground all the times as it deals a lot of damage and also buffs the damage of your Light Attacks if you have a Maelstrom Staff.
Exploding Mage: Deals good damage and is mainly here to give you the 300 extra Magicka Recovery from the Undead Confederate passive and the extra 1500 Spell Penetration from the Dismember passive.
Harness Magicka: This is your shield in case you get hit by a lot of damage, can bolster your health by a lot.
Channeled Acceleration: Keep this up all the time to get the extra critical damage buff.
Glacial Colossus: Can be activated to deal a lot of damage and apply Major Vulnerability to the enemy for a short duration.
Championpoints
If you need optimized defensive Champion Points for a specific trial I recommend checking out my Maximize Damage Mitigation in Trials Article.
Championpoints [810]
The Ritual
52 Thaumaturge
The Atronach
56 Master-at-Arms, 27 Staff Expert
The Apprentice
64 Elemental Expert, 61 Elfborn, 10 Spell Erosion
The Shadow
56 Tumbling, 56 Shadow Ward
The Lover
100 Arcanist
The Tower
56 Warlord, 2 Sprinter
The Lord
The Lady
49 Hardy, 49 Elemental Defender, 48 Thick Skinned
The Steed
81 Ironclad, 43 Spell Shield
Championpoints [600]
The Ritual
44 Thaumaturge
The Atronach
40 Master at Arms, 5 Staff Expert
The Apprentice
64 Elemental Expert, 37 Elfborn, 10 Spell Erosion
The Shadow
20 Tumbling, 20 Shadow Ward
The Lover
100 Arcanist, 23 Tenacity
The Tower
37 Warlord
The Lord
The Lady
42 Hardy, 42 Elemental Defender, 40 Thick Skinned
The Steed
52 Ironclad, 24 Spell Shield
Championpoints [300]
The Ritual
31 Thaumaturge
The Atronach
20 Master at Arms
The Apprentice
27 Elemental Expert, 20 Elfborn, 2 Spell Erosion
The Shadow
The Lover
49 Arcanist, 49 Tenacity
The Tower
2 Warlord
The Lord
The Lady
23 Hardy, 23 Elemental Defender, 23 Thick Skinned
The Steed
31 Ironclad
Important Info for Magicka Necromancer Build PvE
Here you can find information about what race, buff-food, potions & poisons you want to use. I also do list all the passives that you need for this setup.
Buff-food
You can use either one of these buff foods. The Double Bloody Mara will give you higher overall stats, so make sure to get that one if you can.
Bloody Mara (Max Health and Max Magicka)
or
Solitude Salmon Millet Soup (2nd choice)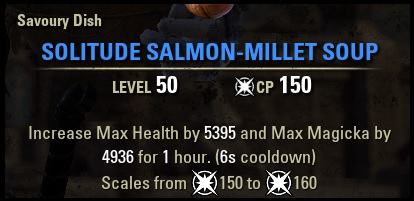 In case you still have sustain issues or you don't have access to False God's Devotion or you are not a Breton, I recommend using the Witchmother's Potent Brew Drink (or Clockwork Citrus Filet)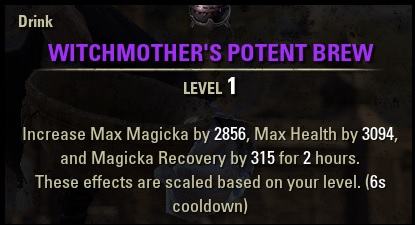 Mundus Stone
You want to make sure to use the shadow Mundus Stone, this will be nice especially during the execute where you can reach a 100% Spell Critical Chance due to the passive Death Knell.
Shadow Mundus (Increased Critical Damage)
Race
Breton (Recommended, best sustain)
Altmer
Khajiit
Darkelf
Potions
Spell-Power Potions
(Spell-crit, Spell Damage, Magicka)
(Cornflower, Ladys Smock, Water Hyacinth)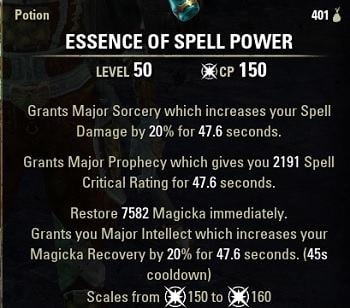 Passives
Grave Lord: Reusable Parts, Death Knell, Dismember, Rapid Rot
Bone Tyrant: Death Gleaning, Disdain Harm, Last Gasp
Living Death: Curative Curse, Corpse Consumption, Undead Confederate
Destruction Staff: Tri Focus, Penetrating Magic, Elemental Force, Ancient Knowledge, Destruction Expert
Light Armor: Grace, Evocation, Spell Warding, Prodigy, Concentration
Heavy Armor: Resolve, Constitution, Juggernaut
Vampire (optional): Supernatural Recovery, Undeath, Dark Stalker
Fighters Guild: Banish the Wicked, Skilled Tracker
Mages Guild: Mage Adept, Everlasting Magic, Magicka Controller, Might of the Guild
Psijic Order: Clairvoyance, Spell Orb, Concentrated Barrier, Deliberation
Undaunted: Undaunted Command, Undaunted Mettle
Racial: All
Alchemy: Medicinal Use
Attributes
All into Magicka
---
Rotation & Target Dummy
Rotation
Whenever possible, activate things like the Skeletal Mage, Channeled Acceleration and Blastbones before the fight starts, that way you gain some burst advantage.
Static Rotation:
The static rotation is way easier as it does not require any buff trackers. It re-casts quite a bit of the abilities early though, which results in about 3-4k dps loss compared to the dynamic rotation. The most important thing about this rotation is that you want to do 3 Blastbones on the frontbar per rotation.
Fire Blockade > LA > Unnerving Boneyard > Weapon Swap
LA > Blastbones > LA > Skeletal Mage > LA > Ricochet Skull > LA > Blastbones > LA > Mystic Siphon > LA > Ricochet Skull > LA > Blastbones > LA > Weapon Swap
Restart
Reapply Rearming Trap or Channeled Acceleration when it runs out.
Use Ultimate whenever it is ready
Do Light Attacks between each ability.
Dynamic Rotation:
With the dynamic rotation, you want to make sure to cast the Blastbones every 3rd Ability, that means Blastbones > Ability > Ability > Blastbones. This only works if you are very close to the target, if you are further away you might need to cast one more ability before you can use Blastbones again, because they take their time traveling to the enemy.
Recast Exploding Mage every 16 Seconds.
Blastbones takes 2.5s to appear and another 0.5 – 1s to run to the target depending how far away you are.
Target Dummy Video
This video is from LIKO'S Youtube Channel, he does a full 21 million Target Dummy Parse on the Raid Dummy. This video is a fully optimized Target Dummy Setup, so it might slightly differ from the build here!
ESO – Magicka Necromancer (89k+ on Raid Dummy) – See Description – Elsweyr
---
Build Video
Here you can find the full Build Video for the Elsweyr Chapter.
Magicka Necromancer Build PvE "Curse" – Elsweyr Chapter ESO
How to Play Beginner Video Guide
This Video is not directly tied to the build, it is here to introduce you to the class and show you a general setup that you can play.
Magicka Necromancer How to Play Beginners Guide – Elsweyr ESO
---
Maelstrom Arena
If you are new to Maelstrom Arena, I highly recommend checking out the full Maelstrom Arena Veteran Guide! Always make sure to start a new wave off with a Heavy Attack to restore a lot of resources!
Gear
If you do not have a Perfected Asylum Staff you can also use a Non-Perfected Asylum Staff.
Skills
---
Update Log
19.05. 2019 Added Magicka Necromancer Build for the Elsweyr Chapter, Magicka Necromancer PvE Build.
12.06.2019 Updated the Magicka Necromancer Build, added Maelstrom Setup and changed some of the text.
Related Content