"Assault"
Updated: Dragonhold DLC, Elsweyr Chapter
Type: Solo Cyrodiil & Battlegrounds
Table of Contents
---
Introduction
Welcome to the Stamina Warden Build PvP "Assault" for PvP Elder Scrolls Online. Make sure to bookmark the link as I will keep updating the build for each new Update of ESO. This build is optimized for Cyrodiil and also works in Battlegrounds.
With this Stamina Warden PvP Build we are using a medium armor setup that focuses on crazy high burst damage and mobility. At the same time we are also very tanky and have good healing values. To achieve this, we are using Fortified Brass, Warrior's Fury and Bloodspawn. Fortified Brass gives us the needed resistances in medium armor and Warrior's Fury really amps up our weapon damage. Stamina Wardens in general have really high damage because of their combo, Dizzying Swing, Subterranean Assault, Dawnbreaker of Smiting and Reverse Slice. All these abilities, if timed correctly, can blow up within 1.5 seconds and on top of that Dawnbreaker  also stuns enemies.
Cyrodiil & Battlegrounds
Medium Armor 2H + S&B Build
Crazy Burst Damage
Good Sustain
Good Healing
High Resistances
Good Defense
---
Changes from the previous version
Fortified Brass lost a bit of resistances, before it was 5170 and now it is 3460. Dizzying Swing has no stun attached to it, but instead sets enemies off balance for 7 seconds. If you still want to stun the enemy, you can do a medium/heavy attack on the enemy to get him stunned if he is off balanced.
---
Resource Management
This setup has a lot of sustain already built in. We are running Medium Armor that helps with sustain due to cost reduction on stamina abilities, we also run 1 Stamina Recovery Glyph and the Artaeum buff food for increased recovery. So with all these things combined we should sit around 1800 Stamina Recovery, which is more then enough on a Medium Armor build.
The Bull Netch has to be kept up all the time, it returns a lot of stamina to you. You can also always do a Heavy Attacks in the right moment to restore plenty of Stamina. And we also do have potions that give you a big chunk of Stamina back when activated.
Medium Armor Cost Reduction
Stamina Recovery Glyphs
Artaeum Buff Food
Bull Netch
Heavy Attacks
Potions
---
Cyrodiil Setup
Gear
In case you can not transmute the jewelry, you could just run the healthy trait from the set, it is not optimal but not too bad either.
Where can I get the gear?
Blood Spawn: Spindleclutch 2
Warrior's Fury: Cyrodiil, Guildstores
Fortified Brass: Craftable
Skills
| 2H Mainbar | S&B second bar |
| --- | --- |
| Slot 1: Forward Momentum | Slot 1: Soothing Spores |
| Slot 2: Subterranean Assault | Slot 2: Shimmering Shield |
| Slot 3: Reverse Slice | Slot 3: Bull Netch |
| Slot 4: Dizzying Swing | Slot 4: Resolving Vigor |
| Slot 5: Bird of Prey | Slot 5: Ice Fortress |
| Ultimate: Dawnbreaker of Smiting | Ultimate: Spell Wall |
Forward Momentum: Applies Major Brutality, removes snares and immobilizes and gives you immunity to them for 4 seconds.
Subterranean Assault: This is your main damage ability in combination with Dizzying Swing and Dawnbreaker, makes for the best combos if all goes off at the same time.
Reverse Slice: Your Ecexute ability, also has a lot of splash AoE damage.
Dizzying Swing: Deals a lot of damage and sets enemies off balance.
Bird of Prey: Use this when you need higher mobility, gives you 30% speed buff and for just slotting it you also gain 8% more damage thanks to Minor Berserk.
Dawnbreaker of Smiting: This is your offensive ultimate, AoE stuns and hits like a truck.
Soothing Spores: Only use this if you are close to death, gives a huge burst heal to you.
Shimmering Shield: Your main defense against ranged enemies, this absorbs most spells from enemies and also gives you Major Heroism.
Bull Netch: Needs to be up at all times, this is a very important sustain tool.
Resolving Vigor: Your main heal, keep this heal over time up! Only let it drop during the offensive phase for a short duration.
Ice Fortress: Gives you major resistances and also minor protection, also increase your damage mitigation.
Spell Wall: This is your defensive ultimate, if you are under a lot of pressure use this to reflect all ranged abilities and go into permablock mode.
In case you don't know what what weaving light attacks is, make sure to check out the "Weaving Beginner Guide" which explains how to weave light attacks between abilities, aka animation canceling.
Championpoints
If you need help distributing your Champion Points, make sure to check out the Champion Points Calculator!
Championpoints [810]
The Ritual
64 Mighty, 40 Piercing, 23 Precise Strikes
The Atronach
72 Master-at-Arms, 48 Shattering Blows
The Apprentice
23 Blessed
The Shadow
28 Shadow Ward, 56 Tumbling
The Lover
49 Tenacity, 76 Mooncalf
The Tower
44 Warlord, 1 Siphoner, 16 Sprinter
The Lord
23 Quick Recovery
The Lady
43 Hardy, 43 Elemental Defender, 40 Thick Skinned
The Steed
61 Ironclad, 60 Resistant
Championpoints [600]
The Ritual
64 Mighty, 27 Piercing, 23 Precise Strikes
The Atronach
31 Master-at-Arms, 32 Shattering Blows
The Apprentice
32 Blessed
The Shadow
23 Tumbling, 23 Shadow Ward
The Lover
63 Mooncalf, 49 Tenacity
The Tower
25 Warlord, 1 Siphoner, 16 Sprinter
The Lord
23 Quick Recovery
The Lady
43 Hardy, 43 Elemental Defender, 34 Thick Skinned
The Steed
31 Ironclad, 26 Resistant
Championpoints [300]
The Ritual
23 Mighty, 12 Piercing, 16 Precise Strikes
The Atronach
13 Master-at-Arms, 13 Shattering Blows
The Apprentice
23 Blessed
The Shadow
11 Tumbling, 11 Shadow Ward
The Lover
24 Tenacity, 27 Mooncalf
The Tower
13 Warlord
The Lord
23 Quick Recovery
The Lady
21 Hardy, 23 Elemental Defender, 13 Thick Skinned
The Steed
11 Ironclad, 9 Resistant
Important Info for Stamina Warden Build PvP
Buff-food
The Artaeum Takeaway Broth is really strong, if you can afford it I would definitely run this. Otherwise you could run the much cheaper version Dubious Camoran Throne.
Artaeum Takeaway Broth (Max Health+Max Stamina+Stamina Recovery, Health Recovery)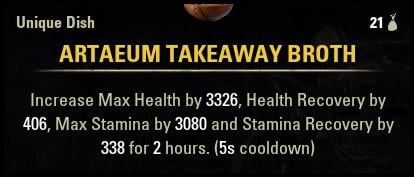 Dubious Camoran Throne (Max Health+Max Stamina+Stamina Recovery)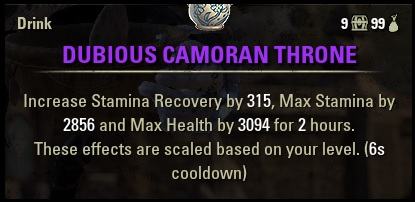 Mundus Stone
The Warrior (Weapon Damage)
Race
All stamina based races are viable, I usually recommend a Nord because it has faster ultimate regen and really high resistances. Redguard would also be a nice choice in terms of sustain and Orc for pure damage and movement.
Nord
Orc
Redguard
Imperial
Khajiit
Woodelf
Potions
I recommend using the Essence of Weapon Crit Potion. The nice thing is, on a Warden you do not really need that much Magicka, therefore we can actually use this potion that gives us Stamina, Health and an extra 10% Weapon Crit, which is a HUGE buff in terms of damage output.
Essence of Weapon Critical Potion
(Crit ,Stamina, CC Immunity)
(Water Hyacinth, Columbine, Dragonthorn)
Poison
I recommend running these on the S&B bar for increased pressure on Single Target fights.
Damage Health Posion
(Damage Poison, Damage Poison)
(Fleshfly Larva, Nightshade, Nirnroot)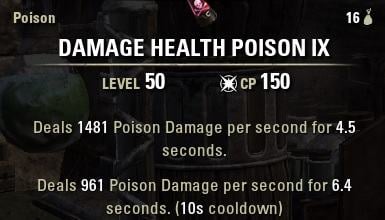 Passives
Animal Companion: Bond With Nature, Savage Beast, Flourish, Advanced Species
Green Balance: Accelerated Growth, Nature's Gift, Emerald Moss, Maturation
Winter's Embrace: Glacial Presence, Frozen Armor, Icy Aura, Piercing Cold
Two Handed: Forceful, Heavy Weapons, Balanced Blade, Follow Up, Battle Rush
One Hand and Shield: Fortress, Sword and Board, Deadly Bash, Deflect Bolts, Battlefield Mobility
Heavy Armor: Resolve, Constitution, Juggernaut
Medium Armor: Dexterity, Wind Walker, Improved Sneak, Agility, Athletics
Fighters Guild: Intimidating Presence, Slayer, Banish the Wicked, Skilled Tracker
Undaunted: Undaunted Command, Undaunted Mettle
Assault: Continuous Attack, Reach, Combat Frenzy
Support: Magicka Aid, Combat Medic, Battle Resurrection
Alchemy: Medicinal Use
Racial: All
Attributes
All into Stamina
---
Battlegrounds
For Battlegrounds we need to make some adjustments, because Champion Points are deactivated by default in Battlegrounds. Therefore we want to focus on more sustain for our setup. I recommend running a second Stamina Recovery Glyph and change the Mundus Stone to The Serpent, for increased Stamina Recovery.
I recommend just getting a 3rd ring, so you can always easily swap between Cyrodiil and Battlegrounds without having to reapply the glyph.
Mundus Stone
The Serpent (Increased Stamina Recovery)
---
Update Log
19.05.2019 ADDED the Build for the Scalebreaker DLC, Elsweyr Chapter, Stamina Warden Build PvP.
19.10.2019 Updated the build for the Dragonhold DLC, Elsweyr Chapter.
Tags: Stamina Warden, Stam Warden PvP Build, Stam Warden 2H Build PvP Stamwarden PvP Build