"Bomb"
Updated: Scalebreaker DLC, Elsweyr Chapter
Type: Solo Cyrodiil
Table of Contents
Introduction
Welcome to the Magicka Nightblade Build PvP "Bomb" for Elder Scrolls Online. Make sure to bookmark the link as I will keep updating the build for each new Update of ESO.
The Magicka Nightblade PvP Build "Bomb" is optimized for Cyrodiil. The build is used to blow up tightly stacked groups, for example on flags on an outpost or in a keep. The more people the better! The chances are high that you also kill yourself, but after all you will gain a lot of AP. To make this work we are stacking a lot of offensive sets like Balorgh, which is a set that drops in one of the Wolfhunter DLC Dungeons that adds an insane amount of Spell and Weapon Damage to you, with the right modifiers you can gain over 1200+ Spell Damage from that set alone, which is crazy. The second set is the all famous bomber set Vicious Death which makes people explode once they die, causing a huge chain reaction, especially vicious on stacked enemies! The last set we use is Spinner's Garments to amp up our damage further. All together we are getting around 5600 Spell Damage along with over 46k Magicka and the Spinner's Garments extra Spell Penetration as you will see in the character sheet picture below. We use Dual Wield because it results in more overall Spell Damage for the build.
Bomber Build
Insane AoE Burst Combo
Light Armor
Dual Wield/Resto Staves
Optimized for Cyrodiil
Strong vs stacked enemies
5'662 Spell Damage and 46'260 Magicka
In case you don't know what what weaving light attacks is, make sure to check out the "Weaving Beginner Guide" which explains how to weave light attacks between abilities, aka animation canceling.
---
Changes from the previous version
Huge buff to the build in the Scalebreaker DLC. There is no more a cap on scaling of the ability, which mean sit will do an insane amount of damage now.
Magicka Detonation:
Reduced the cast time of this ability and the Inevitable Detonation morph to 1 second from 1.5 seconds.
Increased the damage of all morphs by approximately 7% to ensure they deal our AoE damage standard.
Reduced the base cost of all morphs to 3510 from 4050.
Removed the maximum limit to the target scaling of these abilities so they may actually combat large groups of enemies for their intended design.
---
Resource Management
Resource management can be tough, but with the Maelstrom Restoration Staff and Siphoning Attacks you can deal with it. I usually run normal Max Health Max Magicka food. However, you can aso go with Clockwork Citrus Filet (or Witchmother's Potent Brew) of you struggle with sustain. Other than that, you can also use potions to fill up your magicka.
Maelstrom Restoration Staff
Siphoning Attacks
Clockwork Citrus Filet (or Witchmother's Potent Brew)
Magicka Potions
---
Cyrodiil Setup

Spellpower Potion, Weapon Damage Enchantment, Cloak and Balorgh were active when I took the screenshot. 5 Spinner's, 5 Vicious, 2 Balorgh.
Gear
Balorgh: Damage also applies to the Ultimate you activated it with.
We are using Swords because it is overall more damage compared to a Staff for the impact hit.
Where can I get the gear?
Spinner's Garments: Malabal Tor
Vicious Death: Rewards of the Worthy, Guildstore
Balorgh: March of Sacrifices
Maelstrom Restoration Staff: Maelstrom Arena
War Maiden: Vvardenfell
Skills
Concealed Weapon: This ability is here to get increased movement speed while we are stealthed.
| Dual Wield Mainbar | Resto Staff Bar |
| --- | --- |
| Slot 1: Concealed Weapon | Slot 1: Radiating Regeneration |
| Slot 2: Merciless Resolve | Slot 2: Healing Ward |
| Slot 3 Sap Essence | Slot 3: Channeled Acceleration |
| Slot 4: Inner Light | Slot 4: Proximity Detonation |
| Slot 5: Shadowy Disguise | Slot 5: Siphoning Attacks |
| Ultimate: Soul Tether | Ultimate: Light's Champion |
Championpoints
If you need help distributing your Champion Points, make sure to check out the Champion Points Calculator!
Championpoints [810]
The Ritual
18 Thaumaturge
The Atronach
56 Master-at-Arms, 20 Shattering Blows, 11 Staff Expert
The Apprentice
37 Elemental Expert, 48 Elfborn, 61 Spell Erosion, 19 Blessed
The Shadow
58 Tumbling, 40 Shadow Ward
The Lover
100 Arcanist, 32 Tenacity
The Tower
28 Warlord, 11 Sprinter, 1 Siphoner
The Lord
37 Quick Recovery
The Lady
49 Hardy, 49 Elemental Defender, 37 Thick Skinned
The Steed
34 Ironclad, 64 Resistant
Championpoints [600]
The Ritual
The Atronach
56 Master at Arms, 1 Staff Expert
The Apprentice
37 Elemental Expert, 48 Elfborn, 58 Spell Erosion
The Shadow
32 Tumbling, 32 Shadow Ward
The Lover
100 Arcanist
The Tower
36 Warlord
The Lord
The Lady
42 Hardy, 42 Elemental Defender, 37 Thick Skinned
The Steed
34 Ironclad, 45 Resistant
Championpoints [300]
The Ritual
The Atronach
18 Master at Arms
The Apprentice
27 Elemental Expert, 20 Elfborn, 16 Spell Erosion, 19 Blessed
The Shadow
The Lover
64 Arcanist, 32 Tenacity
The Tower
4 Warlord
The Lord
The Lady
23 Hardy, 23 Elemental Defender
The Steed
31 Ironclad, 23 Resistant
Important Info for Magicka Nightblade Bomb Build PvP
Here you can find information about what race, buff-food, potions & poisons you want to use. I also do list all the passives that you need for this setup.
Buff-food
Solitude Salmon-Millet Sauce (Max Health+Max Magicka)
or
Clockwork Citrus Filet (or Witchmoter's Potent Brew)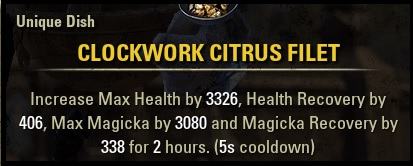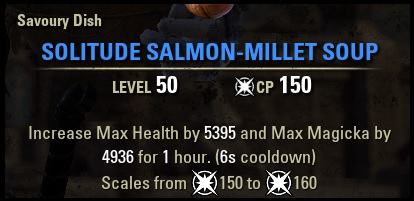 Mundus Stone
The Apprentice (Increased Spell Damage)
Race
Altmer
Darkelf
Breton
Argonian
Khajiit
Potions
You can use various Potions, I recommend running the Spell Crit Potions as you get Spell crit, Spell damage and Magicka.
Spell-Crit Potions
(Spell-crit, Spell Damage, Magicka)
(Cornflower, Ladys Smock, Water Hyacinth)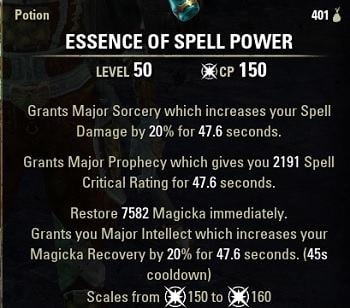 Passives
Assassination: Master Assassin, Executioner, Pressure Points, Hemorrhage
Shadow: Refreshing Shadows, Shadow Barrier, Dark Vigor, Dark Veil
Siphoning: Catalyst, Magicka Flood, Soul Siphoner, Transfer
Dualwield: Slaughter, Dual Wield Expert, Controlled Fury, Ruffian, Twin Blade and Blunt
Restoration Staff: Essence Drain, Restoration Expert, Cycle of Life, Absorb, Restoration Master
Light Armor: Grace, Evocation, Spell Warding, Prodigy, Concentration
Heavy Armor: Resolve, Constitution, Juggernaut
Fighters Guild: Banish the Wicked
Mages Guild: Mage Adept, Everlasting Magic, Magicka Controller, Might of the Guild
Psijic Order: Clairvoyance, Spell Orb, Concentrated Barrier, Deliberation
Undaunted: Undaunted Command, Undaunted Mettle
Vampire: Supernatural Recovery, Undeath, Dark Stalker
Racial: All
Assault: Continuous Attack, Reach, Combat Frenzy
Support: Magicka Aid, Combat Medic, Battle Resurrection
Alchemy: Medicinal Use
Attributes
All into Magicka
---
Vampire
Vampire can be nice for this build thanks to Dark Stalker, because of the increased movement speed while you crouch.
Be aware that you will take increased damage from fire attacks, prismatic weapon enchants and fighters guild abilities.
Dark Stalker
This allows you to ignore the Movement Speed penalty while you are sneaking or invisible, which is huge because we can use Shadowy Disguise a lot and do not get the speed penalty.
Undeath
Damage Reduction on low health is also very helpful, especially in combination with Healing Ward which makes it really hard to kill us.
Supernatural Recovery
This gives us both 10% Magicka and Stamina Recovery which is a nice addition on top of the other effects.
---
Update Log
10.08.2019 Updated Build for the Scalebreaker DLC, Elsweyr Chapter, Magicka Nightblade Build PvP.