"Rampage"
Updated: Dragonhold DLC, Elsweyr Chapter
Type: Dungeon, Trial, Arena & Overland

---
Introduction
Welcome to the Stamina Nightblade Build PvE "Rampage" for Elder Scrolls Online. Make sure to bookmark the link as I will keep updating the build for each new Update of ESO. The Rampage build is a stamina focused damage dealer build. It is made for endgame content like Trials, Dungeons, Blackrose Prison Arena and Maelstrom Arena.
If you are new to the game I can also highly recommend checking out the Stamina Nightblade Beginner Guide.
Stamina Nightblades have insane burst and overall really good Single Target Damage. With our combination of Perfect Arms of Relequen and Perfected Tooth of Lokkestiiz we can reach a very high Major Slayer uptime. Those two sets make Nightblades very strong. We are using a full light attack build in combination with Leeching Strikes. Keep in mind, I list up various gear options, as there is always situtations where you want to swap out some sets.
Insane Burst Damage
Insane high Single Target damage
Group Support
Good AoE Damage
Good Sustain
Dualwield & Bow Setup
Trials & Dungeon
Blackrose & Maelstrom Arena
---
Changes from the previous version
Updated the build for the Dragonhold DLC, changed gear, champion points, skills and rotation.
From the patch notes:
Relentless Focus (morph): This morph now lasts 60 seconds at Rank IV instead of 30 seconds.
---
Resource Management
Nightblades can sustain their rotation easier then other classes, just make sure to keep up Leeching Strikes in your rotation. You also want to make sure that Spears or Orbs are used by your healers to activate the synergy for resources.
If you manage to keep up Leeching Strikes in your rotation you will have good sustain. However, most of the times players forget to re-activate Leeching Strikes for a while which means you will loose a lot of sustain over time, so make sure to notice when it finished so you can immediately reapply it. Technically, you could also reapply it before it runs out and you will still get a part of the resources back.
Incapacitating Strike now also gives you resources every time you do a light attack. That is why we always want to either run it on the backbar or the frontbar. That way we benefit from the extra sustain.
Orbs or Spears from Healers
Heavy Attacks resource return (optional)
Incapacitating Strike
Potions
---
Trials & Dungeons Setup
5x P. Relequen, 5x P. Lokkestiiz, 2x Velidreth on an Orc with Artaeum Gold Food.
Unbuffed: Out of combat
Buffed: Raid Dummy Buffs, Weapon Damage Enchantment and Weapon Power Potions
Gear
You will find 3 different setups here. Setup 1 is the preferred setup. For people that do not have all the gear yet can use the Setup 2 which is easier to obtain and beginners can use Setup 3.
Setup 1 is with Trial Gear
Setup 2 is without Trial Gear
Setup 3 is for Beginners
There are a lot of good Stamina Sets available, you can find more viable stamina dps sets in this Stamina DPS Sets Article. I also elaborate on specific sets that are often used in this article to give you a bit more insight as to why they are used.
Gear Setup 1
War Machine: War Machine is also always a good option for a Stamina Nightblade.
Gear Setup 2
This setup is for those that did not have the chances yet to step into a trial.
Briarheart Dagger: There is an unique Dagger "Materre's Bodkin" that you can get fairly easy, instead of buying it expensive in the store.
Gear Setup 3 Beginner
This setup is dedicated to people that have not had the chance to farm the necessary gear for the maximum damage potential. All the gear here is either craftable or cheap to get in a guildstore. Make sure to ask a friend to craft Hunding's Rage and Night Mother's Gaze. Agility jewelry can be obtained in the Guildstores. I do recommend having around 18k health (with buff-food). You can buy cheap Agility jewelry with healthy trait to reach this value if you want.
Where can I get the gear?
Tooth of Lokkestiiz: Sunspire veteran
Perfect Arms of Relequen: Cloudrest
War Machine: Halls of Fabrication
Vicious Serpent: Hel Ra Citadel, Aetherian Archive, Sanctum Ophidia
Hunding's Rage: Craftable
Night Mother's Gaze: Craftable
Agility: Guildstore
Briarheart: Wrothgar, Guildstore
Velidreth: Cradle of Shadows
Selene: Selene's Web
Maelstrom Bow: Maelstrom Arena
Caustic Arrow (Master's Bow): vet Dragonstar Arena
Skills
| Dual Wield Mainbar | Bow-second bar |
| --- | --- |
| Slot 1: Barbed Trap | Slot 1: Arrow Barrage |
| Slot 2: Soul Splitting Trap | Slot 2: Dark Shades |
| Slot 3: Surprise Attack | Slot 3: Poison Injection |
| Slot 4: Killer's Blade | Slot 4: Leeching Strikes |
| Slot 5: Relentless Focus | Slot 5: Resolving Vigor |
| Ultimate: Incapacitating Strike | Ultimate: Flawless Dawnbreaker |
Championpoints for Stamina Nightblade Build PvE
If you need optimized defensive Champion Points for a specific trial I recommend checking out my Maximize Damage Mitigation in Trials Article.
Championpoints [810]
The Ritual
56 Mighty, 44 Thaumaturge, 56 Precise Strikes, 61 Piercing
The Atronach
40 Master-at-Arms, 13 Physical Weapon Expert
The Apprentice
The Shadow
48 Shadow Ward, 48 Tumbling
The Lover
49 Tenacity, 100 Mooncalf
The Tower
23 Warlord, 2 Sprinter
The Lord
The Lady
49 Hardy, 49 Elemental Defender, 48 Thick Skinned
The Steed
81 Ironclad, 43 Spellshield
Championpoints [600]
The Ritual
34 Thaumaturge, 56 Mighty, 34 Precise Strikes, 29 Piercing
The Atronach
34 Master at Arms, 13 Physical Weapon Expert
The Apprentice
The Shadow
25 Shadow Ward,  26 Tumbling
The Lover
49 Tenacity, 75 Mooncalf
The Tower
23 Warlord, 2 Sprinter
The Lord
The Lady
49 Hardy, 49 Elemental Defender, 37 Thick Skinned
The Steed
37 Ironclad, 28 Spell Shield
Championpoints [300]
The Ritual
16 Thaumaturge, 27 Mighty, 18 Precise Strikes, 12 Piercing
The Atronach
16 Master at Arms, 11 Physical Weapon Expert
The Apprentice
The Shadow
13 Tumbling, 13 Shadow Ward
The Lover
32 Mooncalf, 27 Tenacity
The Tower
15 Warlord
The Lord
The Lady
27 Hardy, 27 Elemental Defender, 28 Thick Skinned
The Steed
16 Ironclad, 2 Spell Shield
Important Info for Stamina Nightblade Build PvE
Buff-food
Depending on what race you have choose one of these two buff foods. If you do not have the money for Artaeum Takeaway Brooth, then you can also use Dubious Camoran Throne Drink.
Braised Rabbit with Spring Vegetables (Max Health+Max Stamina)
or
Artaeum Takeaway Brooth (Max Health+Max Stamina+Stamina Recovery+Health Recovery)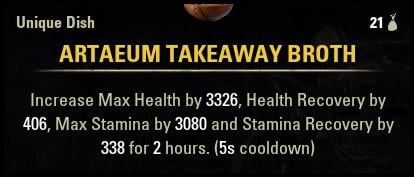 Mundus Stone
The Shadow (Increased Critical Damage)
Race
If you want to learn more about the different racial passives that each race offers, check out my Race Guide which explains everything in detail.
Orc (with Artaeum Food)
Redguard (with Blue Food)
Wood Elf (with Blue Food)
Khajiit (with Artaeum Food)
Dark Elf (with Artaeum Food)
Imperial (with Artaeum Food)
Potions
Weapon Power Potions 
(Weap dmg, Weap Crit, Stamina)
(Blessed Thistle, Dragonthorn, Wormwood)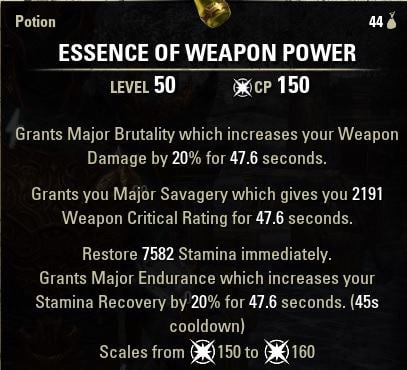 Poisons
Damage Health Poison
(Damage Poison, Damage Poison)
(Fleshfly Larva, Nightshade, Nirnroot)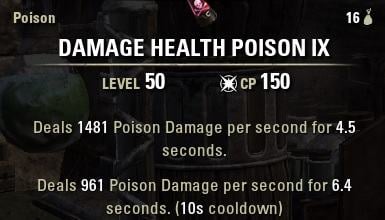 Passives
Assassination: Executioner, Pressure Points, Hemorrhage
Shadow: Refreshing Shadows, Shadow Barrier, Dark Vigor, Dark Veil
Dualwield: Slaughter, Dual Wield Expert, Controlled Fury, Ruffian, Twin Blade and Blunt
Bow: Long Shots, Accuracy, Ranger, Hawk Eye, Hasty Retreat
Medium Armor: Dexterity, Wind Walker, Improved Sneak, Agility, Athletics
Fighters Guild: Intimidating Presence, Slayer, Banish the Wicked, Skilled Tracker
Undaunted: Undaunted Command, Undaunted Mettle
Psijic: Only if you use Channeled Acceleration for the AoE setup.
Racial: All
Alchemy: Medicinal Use
Attributes
All points into Stamina
---
Rotation
In case you don't know what weaving light attacks is, make sure to check out the "Weaving Beginner Guide" which explains how to weave light attacks between abilities, aka animation canceling.
——–
Prebuff with Relentless Focus and Shades. We are using a semi static rotation with this setup and are rotating around the Arrow Barrage DoT which gives us a 10 second rotation.
You want to always activate Arrow Barrage, Poison Injection and Soul Splitting Trap after each other, because they all have a 10 second duration. Reactivate the Dark shade every 2nd rotation only.
Apart from that, you spam Surprise Attack and activate the Spectral Bow from Relentless Focus when it is ready. Last thing you have to manage is to keep up Leeching Strikes and Minor Force from the Barbed Trap.
---
Area of Effect Setup
Skills
---
Maelstrom Arena
Gear
We use two robust instead of infused here to boost our overall stamina to make resource management easier. You could use two infused or two bloodthirsty if you want.
Skills
---
Update Log
11.08.2019 Updated the Rampage Build for the SCALEBREAKER DLC, Elsweyr Chapter. Stamina Nightblade Build PvE.
20.10.2019 Updated the Build for the DRAGONHOLD DLC, Elsweyr Chapter.
Tags: Stamina Nightblade Build, Stamina NB Build PvE, StamBlade PvE Build, Stamina Nightblade Build PvE.