"Serpent"
Elsweyr Chapter
Table of Contents
Introduction
Welcome to the Stamina Dragonknight 2H Build PvE "Serpent" for Elder Scrolls Online. Make sure to bookmark the link as I will keep updating the build for each new Update of ESO. The Stamina Dragonknight DPS 2H Build "Serpent" is optimized for Dungeons, Arenas & Trials.
This build is made for a Dragonknight Two Hander setup. Dragonknights have nice passives and abilities that fit well into a Two Hander setup. Like always we run a pretty standard Stamina setup with the addition of skills like Venomous Claw, Noxious Breath, Flames of Oblivion and Standard of Might. I will present you three different gear setups. The Tier 1 will be with trial gear, Tier 2 with Dungeon gear and the Tier 3 will be the beginners gear setup. Like always, Two Handers have a lot of AoE damage if you play them correctly and the shield you gain from Brawler makes you almost invincible during such fights. Having access to Psijic Order also allows us to run Crushing Weapon which is cheaper and deals more damage than for example Wrecking blow, plus it also heals us for a small amount. We also get access to a 5k Shield when we have that on the bar.
Two Hander & Bow setup
High single target (ST) damage
High area of effect (AoE) damage
Crazy splash damage
Shield on trash fights
Dungeon, Arena  & Trial Build
Changes from the previous version
Changed gear and skill setup.
DK Changes with Elsweyr:
Fiery Breath: Increased the damage of the initial hit of this ability by 200% to be on par with our PBAoE standards.
Molten Whip (morph): Reworked this ability so it no longer grants a passive bonus to Weapon and Spell Damage while slotted. Instead, this passive grants access to Seething Fury, a 33% damage bonus to your next Molten Whip cast and increase of 125 Weapon and Spell Damage every time you activate an Ardent Flame ability that isn't Molten Whip. This bonus can stack up to 3 times, lasts 5 seconds, and will refresh in duration every time it is applied to you.
Searing Strike: Adjusted this ability and its morphs to follow our standardized Damage Over Time ruleset. Decreased the total duration to 8 seconds from 8.5 seconds, and increased the damage per tick by approximately 12.5% to make up for the loss of the first tick. This will result in roughly the same overall DPS, but with less burst damage.
These are the biggest changes to the Dragonknight this patch. This makes Noxious Breath a viable spammable and a good AoE skill and with our passive it will also not cost a lot and therefore our resource management gets a lot better. We also do now have the choice to passively slot Molten Whip to gain extra Weapon Damage for a brief period.
Resource Management
With the Absorb Stamina Enchantment you should have enough sustain to run blue Health and Stamina food. If you still have issues you could swap to Artaeum Takeaway Brooth, but then you have to make sure to get a Health Glyph otherwise your health will fall too low. You also want to make sure that your healers use Spears and Orbs to increase your sustain. I recommend being a Redguard because you will get the best sustain. You have more options, you can also use Stormfist as main Monster Set to gain another Stamina Recovery bonus.
Absorb Stamina Enchant
Artaeum Takeaway Brooth
Orbs or Spears from Healers
Heavy Attacks resource return
Redguard (if available)
Dungeons & Trial Setup
Gear
You will find 3 different setups here. Setup 1 is the preferred setup. For people that do not have all the gear yet can use the Setup 2 which is easier to obtain and beginners can use Setup 3.
Setup 1 is with Trial Gear
Setup 2 is without Trial Gear
Setup 3 is for Beginners
There are a lot of good Stamina Sets available, you can find more viable stamina dps sets in this Stamina DPS Sets Article. I also elaborate on specific sets that are often used in this article to give you a bit more insight as to why they are used.
Gear Setup 1
Gear Setup 2
If you struggle with sustain I recommend running Dubious Camoran Throne with this setup. Make sure to use 1 Health Glyph otherwise your overall Health will be very low.
Gear Setup 3 Beginner
This setup is for new players. You want to craft 5x Hundings Rage with the weapon that you can later on use again, 4x Night Mother's because it has nice stats and then Agility set for more max stamina and weapon damage, all of those are either craftable or cheap to find in the guildstores.
Where can I get the gear?
Tooth of Lokkestiiz: Sunspire veteran
Vicious Serpent: Aetherian Archive, Sanctum Ophidia, Hel Ra Citadel
Perfect Arms of Relequen: Cloudrest
Velidreth: Cradle of Shadows
Berserking Warrior: Hel Ra Citadel
Stormfist: Tempest Island
Hunding's Rage: Craftable
Agility: Guildstore
Night Mother's Gaze: Craftable
Asylum Greatsword: vet Asylum Sanctorium
Leviathan: Crypts of Hearts 1 & 2
Maelstrom Bow: Maelstrom Arena
Master's Greatsword: Dragonstar Arena
Skills
Molten Whip: We have this there to gain extra Weapon Damage for a brief duration, if you want you can swap this out with something else.
AoE Damage: You can equip Brawler instead of Venomous Claw on trash packs if you want to get a damage shield.
| Two Hander Mainbar | Bow-second bar |
| --- | --- |
| Slot 1: Venomous Claw | Slot 1: Endless Hail |
| Slot 2: Molten Whip | Slot 2: Rearming Trap |
| Slot 3: Noxious Breath | Slot 3: Poison Injection |
| Slot 4: Reverse Slice | Slot 4: Razor Caltrops |
| Slot 5: Flames of Oblivion | Slot 5: Resolving Vigor |
| Ultimate: Flawless Dawnbreaker | Ultimate: Standard of Might/ Ballista |
Championpoints
If you need optimized defensive Champion Points for a specific trial I recommend checking out my Maximize Damage Mitigation in Trials Article.
Championpoints [810]
The Ritual
56 Mighty, 44 Thaumaturge, 56 Precise Strikes, 32 Piercing
The Atronach
66 Master-at-Arms, 16 Physical Weapon Expert
The Apprentice
The Shadow
48 Shadow Ward, 48 Tumbling
The Lover
49 Tenacity, 100 Mooncalf
The Tower
23 Warlord
The Lord
The Lady
49 Hardy, 49 Elemental Defender, 48 Thick Skinned
The Steed
81 Ironclad, 43 Spellshield
Championpoints [600]
The Ritual
44 Thaumaturge, 49 Mighty, 48 Precise Strikes, 28 Piercing
The Atronach
28 Master at Arms, 3 Physical Weapon Expert
The Apprentice
The Shadow
20 Shadow Ward,  31 Tumbling
The Lover
49 Tenacity, 100 Mooncalf
The Tower
The Lord
The Lady
49 Hardy, 49 Elemental Defender, 23 Thick Skinned
The Steed
61 Ironclad, 18 Spell Shield
Championpoints [300]
The Ritual
31 Thaumaturge, 27 Mighty, 28 Precise Strikes
The Atronach
13 Master at Arms, 1 Physical Weapon Expert
The Apprentice
The Shadow
The Lover
49 Mooncalf, 49 Tenacity
The Tower
2 Warlord
The Lord
The Lady
23 Hardy, 23 Elemental Defender, 23 Thick Skinned
The Steed
31 Ironclad
Important Info for Stamina Dragonknight Build PvE 2H
Buff-food
As a Redguard/ Woodelf you can use the blue food, for all other races I would recommend the Artaeum Takeaway Brooth to get better sustain.
Braised Rabbit with Spring Vegetables (Max Health, Max Stamina)
or
Artaeum Takeaway Brooth Food (Max Health, Max Stamina, Stamina Recovery)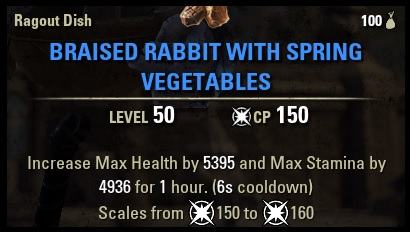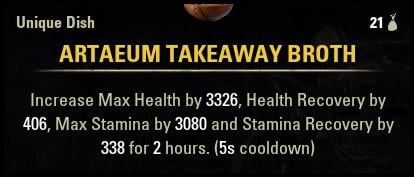 Mundus Stone
The Shadow (Increased Critical Damage)
Race
Orc (with Artaeum Food)
Redguard (with Blue Food)
Wood Elf (with Blue Food)
Khajiit (with Artaeum Food)
Dark Elf (with Artaeum Food)
Imperial (with Artaeum Food)
Potions
Weapon Crit Potions 
(Weap dmg, Weap Crit, Stamina)
(Blessed Thistle, Dragonthorn, Wormwood)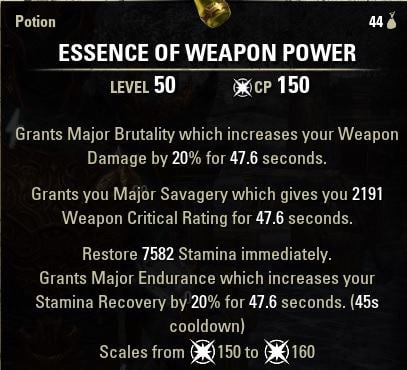 Passives
Attributes
All into Stamina
Rotation
We only have Flames of Oblivion that does not really fit into the rotation perfectly. Reapply Flames of Oblivion whenever it runs out, it is important to let it run out, because the longer it lasts the more damage it does.
> Endless Hail > LA > Rearming Trap > LA > Poison Injection > LA > Caltrops > Weapon Swap
> LA > Venomous Claw > LA > 5x Noxious Breath (with LA) > Weapon Swap
> Restart
If you have to reapply Flames of Oblivion, use 4x instead of 5x Noxious Breath.
Execute: Once you reach 25-30% Boss HP make sure to use Reverse Slice instead of Noxious Breath
Please make sure to not forget to use a Light Attack before you go to the back bar to speed up the Endless Hail animation. And when you go from the backbar to the frontbar you want to throw the Caltrops and then immediately Weapon Swap and then do the Light Attack.
Skeleton Parse
NO ETA
Build Video
The Video is from the Summerset Chapter but it can give you the idea as of how you want to build your character.
Stamina 2H Dragonknight Build PvE "Serpent" – Summerset Chapter ESO
Update Log
15.04.2019 Updated Build for the Elsweyr Chapter. Stamina Dragonknight 2H Build PvE.