"Reliever"
Updated: Scalebreaker DLC, Elsweyr Chapter
Type: Dungeon, Trials & Overland

Table of Contents
---
Introduction
Welcome to the Magicka Templar Healer Build PvE "Reliever" for Elder Scrolls Online. Make sure to bookmark the link as I will keep updating the build for each new Update of ESO. The Reliever Healer Build is made for PvE Trials & Dungeons. Healing is a very difficult job, depending on how organized your group plays. There is no "best" setup for a healer build, always make sure to adjust the build to your needs. Make also sure to check out Vana's Youtube Channel which has a lot of helpful stuff about healing there.
Templar Healers have always been a very popular class setup. Their Class tree Restoring Light specifically made for healing helps with that a lot. Overall they have a very good healing output and on top of that they have a very specific skill called Breath of Life, which is basically a strong burst heal. Extended Ritual allows you to cleanse most of the debuffs and also give your group members a chance to pick up the Purify synergy, which does also cleanse the debuffs from them, very powerful.
Dungeon, Arena & Trial Build
Insane Healing
Insane Sustain
Light Armor
Group Support
---
Changes from the previous version
Updated the skill and set layout for the Scalebreaker DLC.
---
Resource Management
For Magicka Templars make sure to use Channeled Focus, the skill provides Armor & Spell Resistance and it also gives you extra Magicka Recovery. Now on this build we are using 2x Magicka Recovery Glyphs in combination with Clockwork Citrus Filet to give us enough sustain. Also do not forget to Heavy Attack on your Resto Staff bar, you will get 30% more resources back!
Channeled Focus
Magicka Recovery Glyph
Heavy Attacks
Clockwork Citrus Filet
---
Trials & Dungeons Setup
Unbuffed: Raw stats when not in combat.
Buffed: Spell Power Potion, Major Courage, Minor Sorcery and Channeled Focus were active when I took the screenshot.
Gear
In addition to the setups below, here is a list with other very good Healer sets that you can use:
Gear Setup 1
This is one possible setup, always make sure to discuss gear setups with your other healer in your trial group.
For the Timeless Blessing (Perfected) (Asylum staff), it doesn't matter whether you use the imperfect or perfect version, the difference is super small.
Infallible Aether is only active on the backbar, so make sure to do your heavy attack there to apply the Minor Vulnerability debuff.
For the beginner setup, any trait of the sets works, if you want the perfect traits follow the main gear setup. Most important is that you get the sets complete to benefit from the bonus of each set.
Where can I get the gear?
Vestments of Olorime: Cloudrest
Infallible Aether: HRC, AA, SO
Sentinel of Rkugamz: Darkshade Caverns I, Maj Undaunted Chest
Timeless Blessing (Asylum Resto): Asylum Sanctorium
Other useful sets:
The Worm's Raiment: Vaults of Madness
Sanctuary: Banished Cells
Healing Mage (Mending): Aetherian Archive
Jorvuld's Guidance: Scalecaller Peak
Kagrenac's Hope: Craftable In the Earth Forge
Master's Restoration Staff: Veteran Dragonstar Arena
Torug's Pact: Craftable (Requires 3 Traits)
Nightflame: Elden Hollow 2
Skills
Remember, Healers often need to change a few skills out during runs, especially in Trials. So this setup is not maced into stone, adjust it to your needs.
If you have Magicka Damage Dealers in your group make sure to activate Purifying Light in combat to activate the Minor Sorcery buff for your group members.
| Restoration Staff Mainbar | Shock Staff bar |
| --- | --- |
| Slot 1: Breath of Life | Slot 1: Channeled Focus |
| Slot 2: Combat Prayer | Slot 2: Elemental Blockade |
| Slot 3: Healing Springs | Slot 3: Elemental Drain |
| Slot 4: Radiating Regeneration | Slot 4: Luminous Shards |
| Slot 5: Purifying Light | Slot 5: Extended Ritual |
| Ultimate: Solar Prison | Ultimate: Aggressive Warhorn |
Skills Explanation:
Breath Of Life: Your main burst heal.
Combat Prayer: This is your main spammable as a healer, it needs to be on the group members all the time to heal them and increase their damage by 8%.
Healing Springs: Very strong heal over time.
Radiating Regeneration: Very strong heal over time that you have to keep up all the time.
Purifying Light: Activate to gain Minor Sorcery for you and your group.
Solar Prison: Can be used to mitigate a lot of damage and the synergy deals a crazy amount of damage.
Channeled Focus: Gives Major Resistances and also greatly improves your sustain.
Elemental Blockade: Keep this on the ground as much as possible, when that Elemental Shock Blockade is on the ground with your charged trait, concussion and off balance will almost proc on cooldown, increasing group DPS by a lot.
Elemental Drain: This ability needs to be on the enemy as much as possible, it debuffs their Spell Resistance and gives Magicka Steal to your whole group, increasing sustain by a lot.
Luminous Shards: Keep throwing this, allies can use the synergy to regain resources. You could also slot Orbs here.
Extended Ritual: Keep this up all the time, strong heal and people can use the purify synergy to cleanse themselves from debuffs.
Aggressive Warhorn: This is your main Ultimate, it buffs the groups resources and increases the critical damage modifier for 10 seconds.
Championpoints
If you need optimized defensive Champion Points for a specific trial I recommend checking out my Maximize Damage Mitigation in Trials Article.
Championpoints [810]
The Ritual
23 Thaumaturge
The Atronach
The Apprentice
100 Blessed, 72 Elfborn, 26 Spell Erosion, 49 Elemental Expert
The Shadow
28 Tumbling, 44 Shadow Ward
The Lover
75 Arcanist, 75 Tenacity
The Tower
40 Warlord, 8 Sprinter
The Lord
The Lady
49 Hardy, 49 Elemental Defender, 48 Thick Skinned
The Steed
81 Ironclad, 43 Spell Shield
Championpoints [600]
The Ritual
The Atronach
The Apprentice
100 Blessed, 72 Elfborn, 27 Elemental Expert, 1 Spell Erosion
The Shadow
10 Tumbling, 39 Shadow Ward
The Lover
75 Arcanist, 49 Tenacity
The Tower
27 Warlord
The Lord
The Lady
49 Hardy, 49 Elemental Defender, 23 Thick Skinned
The Steed
61 Ironclad, 18 Spell Shield
Championpoints [300]
The Ritual
The Atronach
The Apprentice
61 Blessed, 40 Elfborn, 1 Spell Erosion
The Shadow
The Lover
49 Arcanist, 49 Tenacity
The Tower
2 Warlord
The Lord
The Lady
23 Hardy, 23 Elemental Defender, 23 Thick Skinned
The Steed
31 Ironclad
Important Info for Magicka Templar Healer Build PvE
Buff-food
Ideally you want to use the Clockwork Citrus Filet as it provides you with a little bit extra Magicka and Health. However, that food is quite expensive, the other option is Witchmother's Potent Brew that has similar stats.
Witchmother's Brew Drink (Max Health, Max Magicka, Magicka Recovery)
or
Clockwork Citrus Filet (Max Health, Max Magicka, Magicka Recovery, Health Recovery)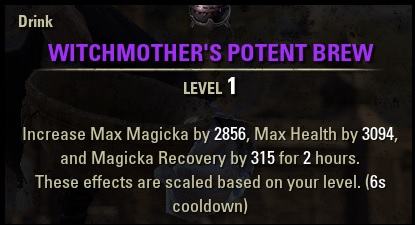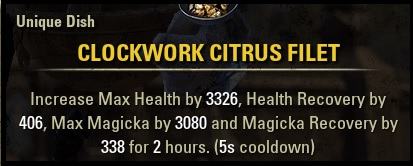 Mundus Stone
The Atronach will greatly improve our sustain for this setup.
The Atronach (Increased Magicka Recovery)
Race
Breton (Recommended, best sustain)
Altmer
Argonian
Dark Elf
Potions
Spell-Crit Potions
(Spell-crit, Spell Damage, Magicka)
(Cornflower, Ladys Smock, Water Hyacinth)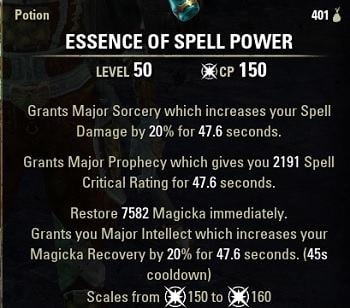 Passives
Aedric Spear: Piercing Spear, Spear Wall, Burning Light, Balanced Warrior
Dawn's Wrath: Enduring Rays, Prism, Illuminate, Restoring Spirit
Restoring Light: Mending, Sacred Ground, Light Weaver, Master Ritualist
Destruction Staff: Tri Focus, Penetrating Magic, Elemental Force, Ancient Knowledge, Destruction Expert
Restoration Staff: Essence Drain, Restoration Expert, Cycle of Life, Absorb, Restoration Master
Light Armor: Grace, Evocation, Spell Warding, Prodigy, Concentration
Heavy Armor: Resolve, Constitution, Juggernaut
Fighters Guild: Banish the Wicked,
Mages Guild (optional): Mage Adept, Everlasting Magic, Magicka Controller, Might of the Guild
Psijic Order (Optional): Clairvoyance, Spell Orb, Concentrated Barrier, Deliberation
Undaunted: Undaunted Command, Undaunted Mettle
Racial: All
Alchemy: Medicinal Use
Attributes
All into Magicka
---
Blackrose Prison Arena
This section of the build is dedicated to the Blackrose Prison Arena, it is a bit different compared to the usual Trial and Dungeon setup due to how the Arena works and because you fight such a huge amount of enemies each wave.
Gear Setup
Alternative Gear Setups
Skill Setup
Gear Setup
As a healer it is quite tricky in Blackrose Prison. There is a few good sets that I can recommend. I would always slot Olorime because of Major Courage in combination with Earthgore which heals for a lot when you are in a tough situation. As a second five piece set you have some options. If you are new in the Arena Kagrenac's Hope is a really good option so you can res your buddies faster. Sanctuary is also nice because it boosts the heals of everyone. A more advanced set would be the Infallible Mage where you also focus on keeping up the Minor Vulnerability debuff on big enemies to increase the overall damage.
Skills
In terms of skill setup there is nothing really special. I highly recommend keeping up Blockade of Shock to keep procing Vulnerability and Off-Balance. Also keep up Spears they deal a lot of damage now. Mutagen is also a nice heal in this Arena as small heal over time skills really help and in case someone drops low it gives a small burst heal.
---
Build Video & Gameplay
Build Video
The Build Video is from VanaEvr, make sure to check out her youtube channel. Please do remember, the website is always more up to date then the videos.
PvE Templar Healer Build 'Reliever' – Wrathstone – ESO
Gameplay
The footage is from Vanaevr, make sure to follow her on Youtube for more footage.
Blackrose Prison (vet) – all final rounds – Templar Healer
Moon Hunter Keep Dungeon – Hardmode – Templar Healer
Maw of Lorkhaj Hardmode – 167'506 Score by Hodor- Templar Healer
Cloudrest – New Trial (PTS) – Templar Healer
Dragonstar Arena (vet) 44'146 Score / Vitality 24/24 – Templar Healer – ESO
---
Update Log
11.08.2019 Added Build for the SCALEBREAKER DLC, Elsweyr Chapter, Magicka Templar Healer Build PvE.