"Summoner"
Elsweyr Chapter
Table of Contents
---
Introduction
Welcome to the Magicka Sorcerer Pet Build PvE "Summoner" for Elder Scrolls Online. Make sure to bookmark the link as I will keep updating the build for each new Update of ESO. The "Summoner" build is made for PvE Trials, Dungeons & Arenas. I also do have a META Sorcerer Build that you can check out.
If you are new to ESO, please make sure to also read the New Player Beginners Guide and the Magicka Sorcerer Beginners Guide, there are a lot of Beginner Guides that you can check out.
Magicka Sorcerers are both insane efficient both ranged and melee, plus they have good shields which makes survival easy. The special Destruction Staff passives make Shock Staves a powerful tool for Magicka Sorcerers. Shock Heavy Attacks have very strong Area of Effect (AoE) attacks. On top of that, they are for free and restore Magicka! You will never have any problems with resource management during trash fights. Same thing on boss fights, if you drop low, simply heavy attack and you are good to go! The most difficult thing with this build, is that you need to be able to command your pets correctly! Remember, when you do a Heavy Attack on a enemy the Pet will directly attack it.
High Single Target (ST) damage
Insane ranged & melee damage
High Area of Effect (AoE) Damage
Pet Build
Heavy Attack weaving
Easy survivability due to  magicka shield
Trials, Dungeons & Arenas
---
Changes from the previous version
Changed the gear setup to a more common setup combination. Also changed to Lightning Flood to fit the rotation better and get more damage out of it.
Daedric Prey

Added a pet taunt functionality to this ability that is similar to the one built into Heavy Attacks. Your active pets will now prioritize targets with Daedric Prey on them.
Reduced the damage bonus for pets from this ability to 40% from 55%.

Lightning Splash: Increased the duration of this ability and its morphs to 8 seconds from 6 seconds.

Liquid Lightning (morph): This morph now lasts 12 seconds to retain the extra 4 seconds of duration increase.
---
Resource Management
This build uses one Heavy Attack per rotation and thus should not really need any other means to be able to sustain. In case you still have issues you could use the Clockwork Citrus Filet instead of the normal food.
Heavy Attacks
Clockwork Citrus Filet (Optional)
---
Trials & Dungeons Setup
5x Necropotence, 5x Mother's Sorrow, 2x Zaan, Altmer with blue food.
Unbuffed: Out of combat with pets active
Buffed: Raid Dummy buffs, Weapon Damange Enchant, Potion and pets were active
Gear
Gear Setup 1
If you want you can also use 3x Bloodthirsty on the jewelry for maximum damage. I use 3x Arcane to stack as much max magicka as possible with this setup.
Gear Setup 2
You can also use Robes of Destruction Mastery or Law of Julianos as a second set.
Beginner Setup
Where can I get the gear?
Necropotence: Rivenspire
Mother's Sorrow: Deshaan Overland
Ilambris: Crypts of Hearts 1
Maelstrom Shock Staff: Maelstrom Arena
Destruction Mastery: Dragonstar Arena
Moondancer: Maw of Lorkhaj
Law of Julianos: Craftable
Spinner's Garments: Malabal Tor
Zaan: Scalecaller Peak
Maw of the Infernal: Banished Cells 2
Willpower: Guildstore
Skills
Storm Atronach: For Single Target fights make sure to use the Atronach as it will give you more dps, group members can also activate a powerful synergy that gives them Major Berserk, applying a 25% damage boost for 8 seconds to themselves and the Atronach.
One Pet: If you prefer one Pet only you can always change one of the pets so you can have Inner light or Bound Armaments on both bars.
Shock Rage: For max AoE damage you can also use the Shock Rage Ultimate.
| Shock Staff Mainbar | Shock Staff bar |
| --- | --- |
| Slot 1: Bound Aegis | Slot 1: Blockade of Shock |
| Slot 2: Daedric Prey | Slot 2: Lightning Flood |
| Slot 3: Crystal Fragments | Slot 3: Empowered Ward |
| Slot 4: Volatile Familiar | Slot 4: Volatile Familiar |
| Slot 5: Twilight Tormentor | Slot 5: Twilight Tormentor |
| Ultimate: Shooting Star | Ultimate: Greater Storm Atronach/ Shock Rage |
Skills explanation:
Bound Aegis: Gives us 8% more Maximum Magicka.
Deadric Prey: This ability deals damage on its own and it boosts our summoned monsters damage by 40%, must be up at all times.
Crystal Fragments: Deals a lot of damage and also gives us access to the Exploitation passive to increase our Spell Crit by 6%!
Volatile Familiar: This pet can tank enemies and if you active its ability it activates a strong AoE damage pulse that hits everything in a 5 meter range. And because those pets scale of max magicka, it will deal an insane amount of damage.
Elemental Rage: This ultimate can also be used on trashpacks, it is the strongest ultimate in the game and deals the most damage in a short period of time.
Blockade of Shock: This ability is an AoE damage effect that has covers a huge area in a shockfield. It also procs off balance which gives us an additional 10% damage due to our Championpoints.
Lightning Flood: Small shock AoE damage effect that deals an insane amount of damage. Friendly group members also can active a synergy that deals good damage.
Empowered Ward: This ability is one of the most important ones. It gives you an insanely huge shield that protects you from any incoming damage. That is the reason why Sorcerers usually survive longer then other classes, because they have a huge shield available. Also gives Minor Intellect to you and group members, increasing Magicka Recovery by 10%.
Storm Atronach: Strongest Single Target Ultimate for the Sorc, make sure to keep Daedric Prey on the enemy to benefit from the damage boost.
What about:
Power Surge: If you play alone you can also use Power Surge instead of Crystal Fragments, it will help you stay alive because it heals you.
As you see, we have a lot of Damage over Time effects that we need to keep up. That also makes the build so strong, because we have so many Damage over Time effects that hit the enemies, most of them are even AoE Damage over Time effects so it can hit multiple enemies. Because we have a lot of shock abilities we can also proc Concussion a lot, which increases our damage by 8%. Concussion can proc Off Balance from the Blockade of Shock which increases our damage by another 10% due to our Champion Points (81 Points in Thaumaturge, that way we unlock the "Exploiter" Champion Points Perk).
Championpoints
If you need optimized defensive Champion Points for a specific trial I recommend checking out my Maximize Damage Mitigation in Trials Article.
Championpoints [810]
The Ritual
81 Thaumaturge
The Atronach
28 Master-at-Arms, 19 Staff Expert
The Apprentice
56 Elemental Expert, 56 Elfborn, 30 Spell Erosion
The Shadow
56 Tumbling, 56 Shadow Ward
The Lover
49 Arcanist, 49 Tenacity
The Tower
56 Warlord, 4 Sprinter
The Lord
The Lady
49 Hardy, 49 Elemental Defender, 48 Thick Skinned
The Steed
81 Ironclad, 43 Spell Shield
Championpoints [600]
The Ritual
81 Thaumaturge
The Atronach
11 Staff Expert
The Apprentice
49 Elemental Expert, 37 Elfborn, 23 Spell Erosion
The Shadow
20 Tumbling, 20 Shadow Ward
The Lover
100 Arcanist, 23 Tenacity
The Tower
37 Warlord
The Lord
The Lady
42 Hardy, 42 Elemental Defender, 40 Thick Skinned
The Steed
52 Ironclad, 24 Spell Shield
Championpoints [300]
The Ritual
31 Thaumaturge
The Atronach
The Apprentice
27 Elemental Expert, 20 Elfborn, 22 Spell Erosion
The Shadow
The Lover
49 Arcanist, 49 Tenacity
The Tower
2 Warlord
The Lord
The Lady
23 Hardy, 23 Elemental Defender, 23 Thick Skinned
The Steed
31 Ironclad
Important Info for Magicka Sorcerer Pet Build PvE
Buff-food
Solitude Salmon-Millet Sauce (Max Health+Max Magicka)
or
Bloody Mara Food which is slightly better then the blue food.
Mundus Stone
If you have below 47% crit chance (without thief equipped), then choose the Thief Mundus, if you are above then choose the Shadow Mundus. If you want an exact calculation on what you should use check out the Shadow vs Thief Article.
Shadow Mundus (Increased Spell Critical Damage)
or
Thief Mundus (Increased Spell Critical Chance)
Race
Altmer will give you overall the best damage. However, all magicka based races are viable for this setup.
Altmer (Recommended)
Darkelf
Breton
Khajiit
Potions
Spell-Power Potions
(Spell-crit, Spell Damage, Magicka)
(Cornflower, Ladys Smock, Water Hyacinth)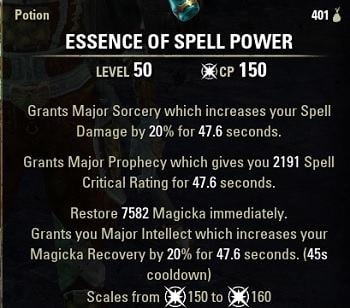 Passives
Dark Magic: Unholy Knowledge, Blood Magic, Persistence, Exploitation
Daedric Summoning: Rebate, Power Stone, Daedric Protection, Expert Summoner
Storm Calling: Capacitor, Energized, Amplitude, Expert Mage
Destruction Staff: Tri Focus, Penetrating Magic, Elemental Force, Ancient Knowledge, Destruction Expert
Light Armor: Grace, Evocation, Spell Warding, Prodigy, Concentration
Heavy Armor: Resolve, Constitution, Juggernaut
Vampire (optional): Supernatural Recovery, Undeath, Dark Stalker
Fighters Guild: Banish the Wicked, Skilled Tracker
Mages Guild: Mage Adept, Everlasting Magic, Magicka Controller, Might of the Guild
Undaunted: Undaunted Command, Undaunted Mettle
Racial: All
Alchemy: Medicinal Use
---
Rotation
Make sure to drop your Ultimate ability on cooldown. The Atronach should be used as a Single Target Ultimate whereas the other Ultimate is used for AoE damage on trash packs.
You can activate Crystal Fragments whenever it procs so you can instant cast it.
With One Pet
Lightning Flood > Light Attack > Blockade of Storms > Weapon Swap
Light Attack > Pet > Light Attack > Daedric Prey > Heavy Attack > Heavy Attack > Weapon Swap
Restart
With Two Pets
Only use the Twilight Tormentor Matriach Ability when the enemy is above 50%, otherwise just let the mob Light Attack by itself so you can focus on other stuff, it will still do a lot of damage.
Lightning Flood > Light Attack > Blockade of Storms > Weapon Swap
Light Attack > Pet1 > Light Attack > Pet2 > Light Attack > Daedric Prey > Heavy Attack > Weapon Swap
Restart
---
Blackrose Prison Arena
This section of the build is dedicated to the Blackrose Prison Arena, it is a bit different compared to the usual Trial and Dungeon setup due to how the Arena works and because you fight such a huge amount of enemies each wave.
Gear Setup
Alternative Gear Setups
Skill Setup
Gear Setup
Skills
---
Maelstrom Arena
If you want you can go check out my Beginner Maelstrom Setup for Magicka Sorcerer.
Gear
You can both run Gear Setup 1 or 2 for Maelstrom Arena. More Max Magicka makes your shields bigger, so that is why I recommend going with Necropotence.
Skills
If you have sustain issues in Maelstrom Arena, I recommend running Witchmothers Brew Drink.
if you want you can run Crushing Shock instead of a Bound Armor on the front or backbar.
---
Update Log
18.05.2019 Updated Build for the Elsweyr Chapter, Magicka Sorcerer Pet Build PvE.
21.05.2019 Fixed a few typos and gear setup 2.