"Azure"
Updated: Scalebreaker DLC, Elsweyr Chapter
Type: Dungeon, Trial, Arena & Overland

Table of Contents
---
Introduction
Welcome to the Magicka Nightblade Build PvE "Azure" for Elder Scrolls Online. Make sure to bookmark the link as I will keep updating the build for each new Update of ESO. This Magicka Nightblade Build is made for Trials, Dungeons and Maelstrom.
If you are new to Magicka Nightblade or ESO please make sure to read the New Player Beginners Guide and the Magicka Nightblade Beginners Guide, there are a lot of Beginner Guides that you can check out.
Magicka Nightblades have a really amazing damage output, good healing and are fun to play, they require a bit of skill to be played effectively. Nightblades also have great ultimate generation due to Soul Harvest and the Catalyst passive, which is especially great in trash fights as they can dish out Ultimates twice as fast as other classes. With sets like Master Architect they also shine, activating Soul Harvest and Architect results in a 35% damage boost.
High single target (ST) damage
Good ranged & melee damage
Crazy area of effect (AoE) damage
Crazy ultimate generation
Good sustain
Easy survivability due to magicka shield
Trials, Dungeons and Maelstrom!
---
Changes from the previous version
Changed skill and rotation for the Scalebreaker DLC.
---
Resource Management
Magicka Nightblades have good sustain, you only need to make a few tweaks to get good sustain. Here I want to explain to you what you can do to improve your sustain, so in the end you find your own "sweetspot" for sustain and adjust it if needed. Siphoning Attacks is a must have for every Magicka Nightblade build and it should be reapplied once it runs out, this is your bread and butter ability to help with sustain. We also run a Magicka Drain Enchantment on one of your weapons, which also gives a big junk of magicka back. Now the last big thing that you can choose on your own to tweak your sustain, Magicka Recovery Glyphs. I felt I reached good sustain when i used one Magicka Recovery Glyph. However, if you think your sustain is still not where you would like it to be, then use a second Magicka Recovery Glyph and then you should definitely be good to go. Heavy Attacks are also a great tool to restore resources, while we not really need them for this build, if you really get into a situation where you dry out, use one or two heavy attacks!
Siphoning Attacks
Magicka Drain Enchantment
Magicka Recovery Glyphs
Heavy Attacks
Clockwork Citrus Filet (Witchmothers Brew)
---
Trials & Dungeons Setup
Gear
You will find 3 different setups here. Setup 1 is the preferred setup. For people that do not have all the gear yet can use the Setup 2 which is easier to obtain and beginners can use Setup 3.
Setup 1 is with Trial Gear
Setup 2 is without Trial Gear
Setup 3 is for Beginners
Gear Setup 1
Master Architect also pairs well with Nightblades, you can also use Master Architect.
Gear Setup 2
Beginner Setup
Where can I get the gear?
Perfect False God's Devotion: Sunspire Vet
Mother's Sorrow: Deshaan
Valkyn Skoria: City of Ash 2
Zaan: Scalecaller Peak
Master Architect: Halls of Fabrication
Maelstrom Inferno Staff: Maelstrom Arena
Slimecraw: Wayrest Sewers I, Maj Undaunted Chest
Law of Julianos Craftable
Molag Kena: White Gold Tower, Undaunted Chest
Willpower: Guildstore
Spinner's Garments: Malabal Tor
Skills
| Fire Staff Mainbar | Fire Staff Bar |
| --- | --- |
| Slot 1: Crippling Grasp | Slot 1: Unstable Wall of Elements |
| Slot 2: Merciless Resolve | Slot 2: Degeneration |
| Slot 3: Elemental Weapon | Slot 3: Harness Magicka |
| Slot 4: Impale | Slot 4: Siphoning Attacks |
| Slot 5: Soul Splitting Trap | Slot 5: Channeled Acceleration |
| Ultimate: Incapacitating Strike | Ultimate: Shooting Star |
Championpoints
If you need optimized defensive Champion Points for a specific trial I recommend checking out my Maximize Damage Mitigation in Trials Article.
Championpoints [810]
The Ritual
81 Thaumaturge
The Atronach
40 Master-at-Arms, 29 Staff Expert
The Apprentice
49 Elemental Expert, 61 Elfborn, 10 Spell Erosion
The Shadow
56 Tumbling, 56 Shadow Ward
The Lover
100 Arcanist
The Tower
56 Warlord, 2 Sprinter
The Lord
The Lady
49 Hardy, 49 Elemental Defender, 48 Thick Skinned
The Steed
81 Ironclad, 43 Spell Shield
Championpoints [600]
The Ritual
44 Thaumaturge
The Atronach
40 Master at Arms, 11 Staff Expert
The Apprentice
49 Elemental Expert, 37 Elfborn, 19 Spell Erosion
The Shadow
20 Tumbling, 20 Shadow Ward
The Lover
75 Arcanist, 49 Tenacity
The Tower
36 Warlord
The Lord
The Lady
42 Hardy, 42 Elemental Defender, 40 Thick Skinned
The Steed
52 Ironclad, 24 Spell Shield
Championpoints [300]
The Ritual
31 Thaumaturge
The Atronach
20 Master at Arms, 2 Staff Expert
The Apprentice
27 Elemental Expert, 20 Elfborn
The Shadow
The Lover
49 Arcanist, 49 Tenacity
The Tower
2 Warlord
The Lord
The Lady
23 Hardy, 23 Elemental Defender, 23 Thick Skinned
The Steed
31 Ironclad
Important Info for Magicka Nightblade Build PvE
Here you can find information about what race, buff-food, potions & poisons you want to use. I also do list all the passives that you need for this setup.
Buff-food
Artaeum Pickled Fish Bowl
(Max Health, Max Magicka)
(Fish, Rice, Clam Gall, Honey)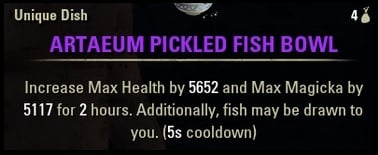 In case you still have sustain issues or you don't have access to False God's Devotion or you are not a Breton, I recommend using the Witchmother's Potent Brew Drink (or Clockwork Citrus Filet)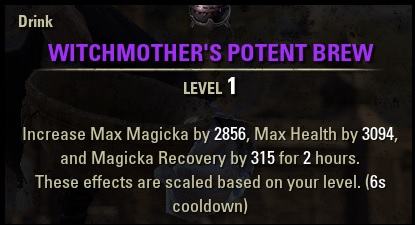 Mundus Stone
Shadow Mundus (Increased Spell Critical Damage)
Race
Breton (Recommended)
Altmer
Darkelf
Khajiit
Potions
Spell-Power Potions
(Spell-crit, Spell Damage, Magicka)
(Cornflower, Ladys Smock, Water Hyacinth)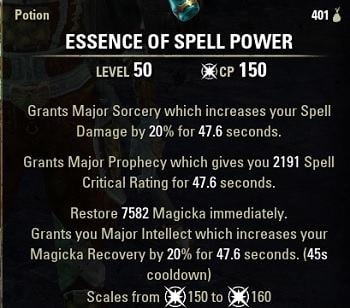 Passives
Assassination: Master Assassin, Executioner, Pressure Points, Hemorrhage
Shadow: Refreshing Shadows, Shadow Barrier, Dark Vigor, Dark Veil
Siphoning: Catalyst, Magicka Flood, Soul Siphoner, Transfer
Destruction Staff: Tri Focus, Penetrating Magic, Elemental Force, Ancient Knowledge, Destruction Expert
Light Armor: Grace, Evocation, Spell Warding, Prodigy, Concentration
Heavy Armor: Resolve, Constitution, Juggernaut
Vampire (optional): Supernatural Recovery, Undeath, Dark Stalker
Fighters Guild: Banish the Wicked, Skilled Tracker
Mages Guild: Mage Adept, Everlasting Magic, Magicka Controller, Might of the Guild
Psijic Order: Clairvoyance, Spell Orb, Concentrated Barrier, Deliberation
Undaunted: Undaunted Command, Undaunted Mettle
Racial: All
Alchemy: Medicinal Use
---
Rotation & Skeleton Parse
In case you don't know what what weaving light attacks is, make sure to check out the "Weaving Beginner Guide" which explains how to weave light attacks between abilities, aka animation canceling.
Like always, start with pre-buffing Siphoning Attacks, Merciless Resolve and Channeled Acceleration.
Unstable Wall of Elements > LA > Degeneration > LA > Siphoning Attacks (every 2nd rotation) Weapon Swap
LA > Crippling Gasp > LA > Soul Splitting Trap > LA > 4x Elemental Weapon
Activate Merciless Resolve Bow proc whenever it is ready, if you do so, use 3x Elemental Weapon instead of 4x.
When you activate your Ultimate, use 3x Elemental Weapon, instead of 4x.
Activate Channeled Acceleration every 4th rotation, if you do so use 3x Elemental Weapon instead of 4x.
In Execute after 25%, use Impale instead of Elemental Weapon.
LA= Light Attack
Target Dummy Video
This video is from LIKO'S Youtube Channel, he does a full 21 million Target Dummy Parse on the Raid Dummy. This video is a fully optimized Target Dummy Setup, so it will differ from the build here!
ESO – Magicka Nightblade PVE Build (95k+) – Scalebreaker
---
Maelstrom Arena
Gear
Skills
If you are new to Maelstrom arena I highly recommend checking out my Beginner Setup for Magicka Nightblade in Maelstrom Arena.
Soul Harvest will also generate a lot of Ultimate if you slot it on the frontbar.
---
Gameplay for Magicka Nightblade Build PvE
Scalecaller Peak – Hardmode No Death Speedrun "Mountain God" – Dragon Bones DLC
Daedric Deflector Scalecaller Peak Achievement – Dragon Bones DLC ESO
Minimal Animosity Fang Lair Achievement – Dragon Bones DLC ESO
Cold Pursuit Achievement Fang Lair – Dragon Bones DLC
---
Update Log
11.08.2019 Updated the Build for the SCALEBREAKER DLC,  Elsweyr Chapter, Magicka Nightblade Build PvE.