"Horror"
Elsweyr Chapter
Table of Contents
---
Introduction
Welcome to the Magicka Necromancer Build PvP "Horror" for Elder Scrolls Online. Make sure to bookmark the link as I will keep updating the build for each new Update of ESO. This Magicka Necromancer Build both has an optimized version for Cyrodiil and one for Battlegrounds.
We are currently using Bright-Throat's Boast, Necropotence and Pirate Skeleton. Bright Throat, Necropotence in combination with either Bloody Mara or Spring Loaded Fusion Drink give us a huge Magicka pool like you can see in the picture. To make up for using Light Armor with this setup I have chosen to run Pirate Skeleton to benefit from Major Protection which reduces our damage by 30% for 12 seconds.
If you are new to ESO, please make sure to also read the New Player Beginners Guide and the Magicka Necromancer Beginners Guide.
Necromancer Class
Light Armor
Destruction Staff + S&B
Cyrodiil & Battlegrounds spec
Max Magicka Setup
High Burst Damage
Good Sustain
Good Healing
---
Changes from the previous version
This build was added with the Elsewyr Chapter.
NOTE: There is currently a bug with blastbones not working how it should.
Resource Management
Resource Management on a Magicka Necromancer can be tough sometimes. As you can see in the Gear Setup below, we are using Magicka Recovery Glyphs and also have a lot of points in the Arcanist Champion Points Tree to increase our Magicka Recovery, that is basically the built in sustain we have. Now when it comes to combat, always make sure to use your Potions at the right time, because they give you a lot of resources back. We also use the Intensive Mender which heals us and also keeps the Undead Confederate passive up all the time. So it is your priority to keep up this ghost all the time because it is your main heal and it also helps a lot with sustain.
Magicka Recovery Glyphs
Arcanist Champion Point Perk
Potions
Heavy Attacks Destro
---
Cyrodiil Setup
Note: Health Bonus was active because alliance had Emperor.
5x Necropotence, 5x Bright Throat, 2x Pirate Skeleton, Breton with Bloody Mara Drink.
Unbuffed: Out of Combat, no pet active
Buffed: In Combat, Major Sorcerery, Tri Stat Potion, Resistant Flesh, Spirit Mender were active
Gear
Where can I get the gear?
Necropotence: Rivenspire Overland, Guildstore
Pirate Skeleton: Blackheart Haven, Glirion Undaunted Chest
Bright-Throat's Boast: Murkmire, Guildstore
Skills
Ricochet Skull is easy to avoid, you can also use Force Pulse instead.
| Fire Staff Mainbar | S&B Bar |
| --- | --- |
| Slot 1: Destructive Reach | Slot 1: Hexproof |
| Slot 2: Stalking Blastbones | Slot 2: Structured Entropy |
| Slot 3: Ricochet Skull/ Force Pulse | Slot 3: Resistant Flesh |
| Slot 4: Elemental Drain | Slot 4: Dampen Magic |
| Slot 5: Intensive Mender | Slot 5: Summoner's Armor |
| Ultimate: Glacial Colossus | Ultimate: Ravenous Goliath |
---
Championpoints
Here you can find a 810, 600 and a 300 Champion Points setup.
Championpoints [810]
The Ritual
The Atronach
56 Master-at-Arms, 44 Shattering Blows, 21 Staff Expert
The Apprentice
27 Elemental Expert, 48 Elfborn, 47 Spell Erosion, 27 Blessed
The Shadow
58 Tumbling, 30 Shadow Ward
The Lover
100 Arcanist, 32 Tenacity
The Tower
38 Warlord, 11 Sprinter, 1 Siphoner
The Lord
37 Quick Recovery
The Lady
43 Hardy, 43 Elemental Defender, 28 Thick Skinned
The Steed
44 Ironclad, 55 Resistant, 20 Spell Shield
Championpoints [600]
The Ritual
The Atronach
56 Master at Arms, 1 Staff Expert
The Apprentice
27 Elemental Expert, 48 Elfborn, 41 Spell Erosion, 27 Blessed
The Shadow
32 Tumbling, 30 Shadow Ward
The Lover
100 Arcanist
The Tower
38 Warlord
The Lord
The Lady
43 Hardy, 43 Elemental Defender, 37 Thick Skinned
The Steed
34 Ironclad, 43 Resistant
Championpoints [300]
The Ritual
The Atronach
18 Master at Arms
The Apprentice
27 Elemental Expert, 20 Elfborn, 16 Spell Erosion, 19 Blessed
The Shadow
The Lover
64 Arcanist, 32 Tenacity
The Tower
4 Warlord
The Lord
The Lady
23 Hardy, 23 Elemental Defender
The Steed
31 Ironclad, 23 Resistant
Important Info for Magicka Necromancer Build PvP
Buff-food
Double Bloody Mara DRINK (Max Health, Max Magicka)
or
Spring Loaded Infusion DRINK (Max Health, Max Magicka, Max Stamina)
If you want more overall stamina you can run Spring Loaded Infusion Drink
Mundus Stone
The Mage for more Max Magicka is preferred, if you need more sustain you can also choose The Atronach.
The Mage (Increased Max Magicka)
or
The Atronach (Increased Magicka Recovery)
Race
All magicka based races work for this setup, I would recommend using a Breton because you get a lot of cost reduction and extra resistances on top of extra resources. If you want to know more about races you can also check out my racial guide for ESO that showcases all the benefits of the different races.
Breton (Recommended)
Altmer
Darkelf
Argonian
Potions
I do recommend using Tri Stat Potions as we really need all Stamina and Magicka we can get, to help with sustain and also blocking.
Tri-Stat Potion
(Health, Stamina, Magicka)
(Bugloss, Columbine, Dragonthorn)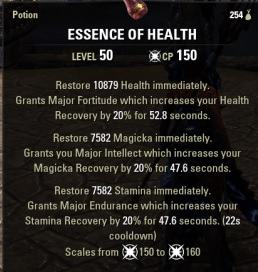 If you run Spring Loaded Infusion Drink, you can also use Spell Power Potions and then remove Entropy from your bar!
Poisons
Make sure to run poisons on the S&B bar, those poisons help root the enemy and also drain stamina.
Escapist Poison
(Immobilize, Speed reduction, Drain Stamina)
(Blessed Thistle, Columbine, Namiras Rot)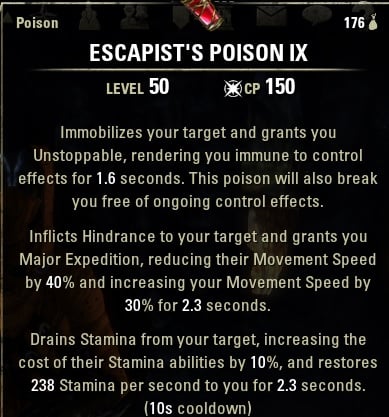 Passives
Grave Lord: Reusable Parts, Death Knell, Dismember, Rapid Rot
Bone Tyrant: Death Gleaning, Disdain Harm, Health Avarice, Last Gasp
Living Death: Curative Curse, Near-Death Experience, Corpse Consumption, Undead Confederate
Destruction Staff: Tri Focus, Penetrating Magic, Elemental Force, Ancient Knowledge, Destruction Expert
One Hand and Shield: Fortress, Sword and Board, Deadly Bash, Deflect Bolts, Battlefield Mobility
Light Armor: Grace, Evocation, Spell Warding, Prodigy, Concentration
Heavy Armor: Resolve, Constitution, Juggernaut
Fighters Guild: Intimidating Presence
Assault: Continuous Attack, Reach, Combat Frenzy
Support: Magicka Aid, Combat Medic, Battle Resurrection
Alchemy: Medicinal Use
Undaunted: Undaunted Command, Undaunted Mettle
Psijic Order (optional): Clairvoyance, Spell Orb, Concentrated Barrier, Deliberation
Racial: All
Please make sure not to forget the Medicinal Use passive from the Alchemy tree, it is one of the most important passives that will allow you to keep your Potions active a 100% of the time.
---
Combos & How to Play
Damage & Combo
Our main stun tool is Destructive Reach which knocks enemies back and stuns them. You can stun enemies every 7 seconds. What you want to do is make all 3 abilities hit at about the same time Stalking Blastbones + Ricochet Skull + Destructive Reach. All 3 abilities will impact on about the same time and when you manage to stun the enemy at the same time he can also not block the damage.
When you are focusing a certain enemy make sure Elemental Drain is applied, this increases your damage and sustain tremendously.
Healing & Defense
Intensive Mender is your main heal, this Ghost has to be up ALL THE TIME. If you let this run out you will loose a lot of healing and sustain, because as long as we have this dude active we will also benefit from the Undead Confederate passive. Summoner's Armor is your other skill that has to be up ALL THE TIME, it increases your resistances and also gives you cost reduction on all your summons, luckily it has a 20 seconds duration.
If you take too much damage you want to go to your sword & board bar to block and heal with the Resistant Flesh skill, this will give you a huge burst heal and also grant you extra resistances.
To cleanse debuffs on you, you got a very powerful skill called Hexproof, just be careful, it costs a bit of health to activate it.
---
Battlegrounds Setup
The setup stays more or less the same. Because sustain will be tougher in Battlegrounds, you want to make sure to run one or two Magicka Recovery Glyphs on your jewelry.
---
Update Log
03.05.2019 Added the Magicka Necromancer Build Horror for the Elsweyr Chapter.
22.05.2019 Updated build with a better setup