"Shadow"
Wolfhunter DLC, Summerset Chapter
Table of Contents
Introduction
Welcome to the Magicka Nightblade Build PvP "Shadow" for Elder Scrolls Online. Make sure to bookmark the link as I will keep updating the build for each new Update of ESO. This Magicka Nightblade Build is optimized for Battlegrounds, but also works in Cyrodiil both for the Non Champion Points and Champion Points Campaign.
The Shadow Build uses Shacklebreaker to give all rounded stats for both Max Magicka and Stamina. As a Magicka build it is important to have enough Stamina to be able to dodge roll and block, so the set in combination with Tri Stat food gives us huge stats. Nightblades have really good passives, therefore even with this setup and Tri Stat food we still have a lot of Magicka Recovery which is very much needed to sustain in Battlegrounds. We also use Caluurion's Legacy and Zaan to maximize our damage output. Those two sets will deal so much damage. Now you can choose to use Caluurion on the front or backbar. I like to have it on the backbar so I can control when it goes off, the choice is yours. Zann just in general tears through enemies in Battlegrounds. The Monster Set also gives you room to breath because most people will run away to break the Zaan beam. As a Nightblade you need to make sure to get your Combos down, Combos are everything on a Nightblade. I recommend watching my gameplay video so you can see how you can do it.
Crazy Sustain
Strong Burst Combos
Ranged Setup
Light Armor Build
High Mobility
Magicka Nightblade Build PvP "Shadow" – Summerset Chapter ESO
Changes from the previous version
Reminder: The Build video is from the Summerset Chapter patch. Small changes have been made in the Wolfhunter DLC update, as you can see here in the written guide.
Updated Champion Points and improved the Passive section.
Resource Management
We have around 2100 to 2300 Magicka Recovery, on top of that we use Siphoning Attacks to help keep resource management active. If you still struggle with sustain I recommend opening your attacks or after cloaking with a Heavy Attack, deals a lot of damage and returns a lot of resources.
Siphoning Attacks
Heavy Attacks
PvP Setup
Battlegrounds Setup

Spellpower Potion, Weapon Damage Enchantment and Refreshing Path were active when I took the screenshot. Willpower Staff on the frontbar.
Cyrodiil Setup

Spellpower Potion, Weapon Damage Enchantment and Refreshing Path were active when I took the screenshot. Willpower Staff on the frontbar.
Gear
You could run Shroud of the Lich instead of Caluurion if you would like to, then you can swap some Magicka Recovery Glyph with Spell Damage Glyphs.
You can also freely use any other Monster Set.
No Master's Staff? What I did was use a Willpower Staff instead a Master's Staff for a long time, you get a lot of extra Max Magicka.
Where can I get the gear?
Caluurion's Legacy: Fang Lair
Shacklebreaker: Craftable
Domihaus: Falkreath Hold, Undaunted Chest
Master's Inferno Staff: Dragonstar Arena
Willpower: Guildstore
Skills
Why Incapacitating Strike? You need to use this morph as it gives you the ability to stun the enemy and deal insane damage at the same time.
Dampen Magic: You can also use Mirage in that slot as the Healing Ward is already pretty strong.
| Fire Staff Mainbar | Resto Staff Bar |
| --- | --- |
| Slot 1: Siphoning Attacks | Slot 1: Shadow Image |
| Slot 2: Merciless Resolve | Slot 2: Crippling Grasp |
| Slot 3 Swallow Soul | Slot 3: Healing Ward |
| Slot 4:  Flame Reach | Slot 4: Refreshing Path |
| Slot 5: Shadowy Disguise | Slot 5: Dampen Magic |
| Ultimate: Incapacitating Strike | Ultimate: Life Giver |
Championpoints
Championpoints [780 CP]
The Ritual
18 Thaumaturge
The Attronarch
56 Master-at-Arms, 20 Shattering Blows, 21 Staff Expert
The Apprentice
27 Elemental Expert, 48 Elfborn, 51 Spell Erosion, 19 Blessed
The Shadow
58 Tumbling, 30 Shadow Ward
The Lover
100 Arcanist, 32 Tenacity
The Tower
28 Warlord, 11 Sprinter, 1 Siphoner
The Lord
37 Quick Recovery, 20 Bastion
The Lady
43 Hardy, 43 Elemental Defender, 28 Thick Skinned
The Steed
34 Ironclad, 55 Resistant
Championpoints [300 CP]
The Ritual
The Attronarch
18 Master at Arms
The Apprentice
27 Elemental Expert, 20 Elfborn, 16 Spell Erosion, 19 Blessed
The Shadow
The Lover
64 Arcanist, 32 Tenacity
The Tower
4 Warlord
The Lord
The Lady
23 Hardy, 23 Elemental Defender, 23 Resistant
The Steed
31 Ironclad
Important Info for Magicka Nightblade Build PvP
Here you can find information about what race, buff-food, potions & poisons you want to use. I also do list all the passives that you need for this setup.
Buff-food
Longfin pasty with Melon Sauce (Max Health+Max Stamina+Max Magicka)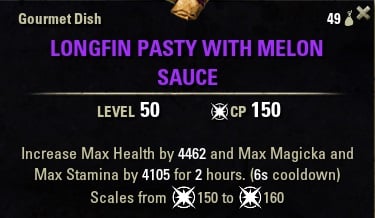 Mundus Stone
The Atronach (Increased Magicka Recovery)
Race
Altmer (Recommended)
Darkelf
Breton
Argonian
Imperial
Potions
You can use various Potions, I recommend running the Spell Crit Potions as you get Spellcrit, Spelldamage and Magicka. Especially the extra Crit from Spell Crit Potions makes a huge difference in Battlegrounds!
Spell-Crit Potions
(Spell-crit, Spell Damage, Magicka)
(Cornflower, Ladys Smock, Water Hyacinth)
Passives
Assassination: Master Assassin, Executioner, Pressure Points, Hemorrhage
Shadow: Refreshing Shadows, Shadow Barrier, Dark Vigor, Dark Veil
Siphoning: Catalyst, Magicka Flood, Soul Siphoner, Transfer
Destruction Staff: Tri Focus, Penetrating Magic, Elemental Force, Ancient Knowledge, Destruction Expert
Restoration Staff: Essence Drain, Restoration Expert, Absorb, Critical Rush, Restoration Master
Light Armor: Recovery, Evocation, Spell Warding, Prodigy, Concentration
Heavy Armor: Resolve, Constitution, Juggernaut
Fighters Guild: Intimidating Presence
Mages Guild: Mage Adept, Everlasting Magic, Magicka Controller, Might of the Guild
Vampire: Supernatural Recovery, Undeath, Dark Stalker
Assault: Continuous Attack, Reach, Combat Frenzy
Support: Magicka Aid, Combat Medic, Battle Resurrection
Alchemy: Medicinal Use
Psijic Order: Clairvoyance, Spell Orb, Concentrated Barrier, Deliberation
Undaunted: Undaunted Command, Undaunted Mettle
Racial: All
Gameplay
Magicka Nightblade Deathmatch Battlegrounds – Summerset Chapter ESO
Hi, I am a Magblade, can I join the Sorcgrounds?
Vampire
Vampire is optional with this build, I do not recommend being a Vampire due to the extreme increased damage that you take. If you still choose to do so, here are some important infos.
Be aware that you will take increased damage from fire attacks, prismatic weapon enchants and fighters guild abilities.
Dark Stalker
This allows you to ignore the Movement Speed penalty while you are sneaking or invisible, which is huge because we can use Shadowy Disguise a lot and do not get the speed penalty.
Undeath
Damage Reduction on low health is also very helpful, especially in combination with Healing Ward which makes it really hard to kill us.
Supernatural Recovery
This gives us both 10% Magicka and Stamina Recovery which is a nice addition on top of the other effects.
Update Log
02.08.2018 Updated Build for Wolfhunter DLC, Summerset Chapter Magicka Nightblade Build PvP
22.08.2019 Fixed location of Domihaus Set, Magicka Nightblade Build PvP