"Predator"
Updated: Dragonhold DLC, Elsweyr Chapter
Type: Dungeon, Trial, Arena & Overland

Table of Contents
---
Introduction
Welcome to the Stamina Warden 2H Build PvE "Predator" for Elder Scrolls Online. Make sure to bookmark the link as I will keep updating the build for each new Update of ESO. The Stamina Warden DPS 2H Build "Predator" is optimized for Dungeons & Trials.
Two Hander & Bow setup
High single target (ST) damage
High area of effect (AoE) damage
Crazy splash damage
Single Target & AoE Setup
Shield on trashfights
Dungeon & Trial Build
---
Changes from the previous version
This build was added with the Dragonhold DLC.
---
Resource Management
Using the Artaeum Buff Food already gives us a lot of extra stamina recovery that we need. In addition, you always want to keep up your Bull Netch to constantly give you back stamina throughout the fight. During the fight healers or tanks will throw Energy Orb that you can synergize to get back resources, these are very important! Other than that you have to use potions on cooldown to give you a huge amount of stramina back and you can always perform some heavy attacks throughout the fight to restore stamina. If you have all these things you should be fine with sustain, just don't forget to do heavy attacks when you drop low on stamina.
Artaeum Takeaway Brooth
Bull Netch
Orbs or Spears from Healers
Heavy Attacks resource return (optional)
Potions
---
Dungeons & Trial Setup
5x Perfect Relequen, 5x Perfect Lokkestiiz, 2x Velidreth, Orc with Artaeum Food and stage 2 Vampire
Unbuffed: Out of combat
Buffed: Weapon Damage Potion, Weapon Damage Enchantment, Bull Netch and Raid Dummy buffs were active
Gear
You will find 3 different setups here. Setup 1 is the preferred setup. For people that do not have all the gear yet can use the Setup 2 which is easier to obtain and beginners can use Setup 3.
Setup 1 is with Trial Gear
Setup 2 is without Trial Gear
Setup 3 is for Beginners
There are a lot of good Stamina Sets available, you can find more viable stamina dps sets in this Stamina DPS Sets Article. I also elaborate on specific sets that are often used in this article to give you a bit more insight as to why they are used.
Gear Setup 1
Gear Setup 2
Gear Setup 3 Beginner
This setup is for new players. You want to craft 5x Hundings Rage with the weapon that you can later on use again, 4x Night Mother's because it has nice stats and then Agility set for more max stamina and weapon damage, all of those are either craftable or cheap to find in the guildstores.
Where can I get the gear?
Tooth of Lokkestiiz: Sunspire
Tzogvins's Armband: Frostvault
Perfect Arms of Relequen: vet Cloudrest
Vicious Serpent: vet Aetherian Archive, Sanctum Ophidia, Hel Ra Citadel
Hunding's Rage: Craftable
Agility: Guildstore
Night Mother's Gaze: Craftable
Leviathan: Crypts of Hearts 1 & 2
Caustic Arrow (Master's Bow): vet Dragonstar Arena
Maelstrom Bow: vet Maelstrom Arena
Master's Greatsword: vet Dragonstar Arena
Skills
| Two Hander Mainbar | Bow-second bar |
| --- | --- |
| Slot 1: Subterranean Assault | Slot 1: Arrow Barrage |
| Slot 2: Barbed Trap | Slot 2: Consuming Trap |
| Slot 3: Cutting Dive | Slot 3: Poison Injection |
| Slot 4: Reverse Slice | Slot 4: Bull Netch |
| Slot 5: Bird of Prey | Slot 5: Resolving Vigor |
| Ultimate: Wild Guardian | Ultimate: Wild Guardian |
Championpoints
If you need optimized defensive Champion Points for a specific trial I recommend checking out my Maximize Damage Mitigation in Trials Article.
Championpoints [810]
The Ritual
56 Mighty, 44 Thaumaturge, 56 Precise Strikes, 32 Piercing
The Atronach
66 Master-at-Arms, 16 Physical Weapon Expert
The Apprentice
The Shadow
48 Shadow Ward, 48 Tumbling
The Lover
49 Tenacity, 100 Mooncalf
The Tower
23 Warlord, 2 Sprinter
The Lord
The Lady
49 Hardy, 49 Elemental Defender, 48 Thick Skinned
The Steed
81 Ironclad, 43 Spellshield
Championpoints [600]
The Ritual
34 Thaumaturge, 56 Mighty, 34 Precise Strikes, 26 Piercing
The Atronach
34 Master at Arms, 16 Physical Weapon Expert
The Apprentice
The Shadow
25 Shadow Ward,  26 Tumbling
The Lover
49 Tenacity, 75 Mooncalf
The Tower
23 Warlord, 2 Sprinter
The Lord
The Lady
49 Hardy, 49 Elemental Defender, 37 Thick Skinned
The Steed
37 Ironclad, 28 Spell Shield
Championpoints [300]
The Ritual
16 Thaumaturge, 27 Mighty, 18 Precise Strikes, 12 Piercing
The Atronach
16 Master at Arms, 11 Physical Weapon Expert
The Apprentice
The Shadow
13 Tumbling, 13 Shadow Ward
The Lover
32 Mooncalf, 27 Tenacity
The Tower
15 Warlord
The Lord
The Lady
27 Hardy, 27 Elemental Defender, 28 Thick Skinned
The Steed
16 Ironclad, 12 Spell Shield
Important Info for Stamina Warden Build PvE 2H
Buff-food
As a Redguard/ Woodelf you can use the blue food, for all other races I would recommend the Artaeum Takeaway Brooth to get better sustain.
Artaeum takeaway Brooth (Max Health, Max Stamina, Stamina Recovery, Health Recovery)
or
Dubious Camoran Throne Drink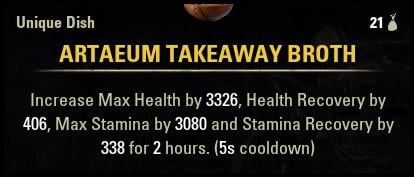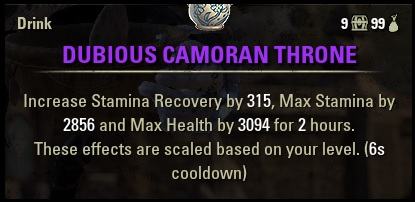 Mundus Stone
The Shadow (Increased Critical Damage)
Race
If you want to learn more about the different racial passives that each race offers, check out my Race Guide which explains everything in detail.
Orc (with Artaeum Food)
Redguard (with Blue Food)
Wood Elf (with Blue Food)
Khajiit (with Artaeum Food)
Dark Elf (with Artaeum Food)
Imperial (with Artaeum Food)
Potions
Weapon Crit Potions 
(Weap dmg, Weap Crit, Stamina)
(Blessed Thistle, Dragonthorn, Wormwood)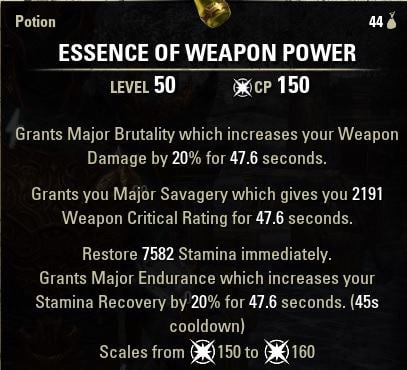 Poisons
Damage Health Poison
(Damage Poison, Damage Poison)
(Fleshfly Larva, Nightshade, Nirnroot)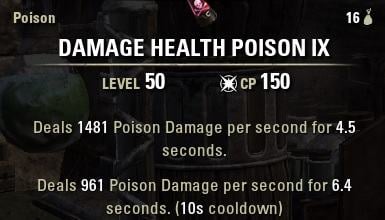 Passives
Animal Companion: Bond With Nature, Savage Beast, Flourish, Advanced Species
Green Balance: Accelerated Growth, Nature's Gift, Maturation
Winter's Embrace: Icy Aura
Two Handed: Forceful, Heavy Weapons, Balanced Blade, Follow Up, Battle Rush
Bow: Long Shots, Accuracy, Ranger, Hawk Eye, Hasty Retreat
Medium Armor: Dexterity, Wind Walker, Improved Sneak, Agility, Athletics
Fighters Guild: Intimidating Presence, Slayer, Banish the Wicked, Skilled Tracker
Vampire: Optional
Psijic Order (AoE Setup): Clairvoyance, Spell Orb, Concentrated Barrier, Deliberation
Undaunted: Undaunted Command, Undaunted Mettle
Racial: All
Alchemy: Medicinal Use
Attributes
All into Stamina
---
Rotation
In case you don't know what weaving light attacks is, make sure to check out the "Weaving Beginner Guide" which explains how to weave light attacks between abilities, aka animation canceling.
Always activate the Bull Netch before you engage in combat. The only other thing not fitting into our rotation is Barbed Trap, so make sure to activate the Trap 2 seconds before it runs out, so you can keep the Minor Force buff up for a 100% of the time. The rotation is around 10-11 seconds long.
Arrow Barrage > LA > Consuming Trap > LA > Poison Injection > Weapon Swap
LA > SA > LA > Cutting Dive > LA > Cutting Dive > LA > SA > LA > Cutting Dive > LA > Cutting Dive > LA > SA > Weapon Swap
LA = Light Attack
SA =  Sub. Assault
Reapply Bull Netch after it ran out.
Reapply Barbed Trap 2 seconds before it runs out, so you keep Minor Force buff up
Execute:
At 30%, you can start using Reverse Slice instead of Cutting Dive.
At 25% you can stop using Consuming Trap and Sub. Assault.
Just make sure to keep Arrow Barrage and Poison Injection up on the back bar, other than that spam Reverse Slice and make sure that Barbed Trap still gives you the Minor Force buff.
---
AoE Setup
This setup is made for AoE damage, it is meant for trash packs. During trash packs you can usually not debuff the monsters as good as on boss fights, therefore we are using Twice-Fanged Serpent to get more physical penetration and the Titanic Cleave for a huge AoE damage boost.
Master's Greatsword: Dragonstar Arena vet
Maelstrom Bow: Maelstrom Arena vet
TFS: Sanctum Ophidia
Perf. Tooth of Lokkestiiz: Sunspire vet
Instead of Barbed Trap we are using Channeled Acceleration to prebuff us with Minor Force before we attack the trash packs. Only use Acid Spray in the back bar if you can not engage in melee combat.
Update Log
14.10.2019 Updated Build for Dragonhold DLC, Elsweyr Chapter. Stamina Warden Build Predator PvE
Tags: Stamina Warden, Stam Warden Build PVE, Stam Warden PvE Build, Stam Warden PvE Builds