"Creeve"
Updated: Dragonhold DLC, Elsweyr Chapter
Type: Solo Cyrodiil & Battlegrounds
Table of Contents
---
Introduction
Welcome to the Stamina Sorcerer Build PvP "Creeve" for Elder Scrolls Online. Make sure to bookmark the link as I will keep updating the build for each new Update of ESO. This build is made for Cyrodiil and Battlegrounds.
This Stamina Sorcerer PvP Build is a heavy armor build that can take quite a few punches before breaking down. We have high mobility because of our extra movement speed and the Streak ability and our healing strength is also good because we use a combination of health recovery, normal heals, Critical Surge and Dark Deal.
We are using Shacklebreaker, Warrior's Fury and The Troll King to get overall really good max resources, health recovery acceleration and increased damage once. All the sets are fairly easy to get, but you will have to transmute the jewelry.
Cyrodiil & Battlegrounds
Heavy Armor S&B + 2H Build
High Mobility
Good Healing
Good Resistances
Good Sustain
High Burst Damage
---
Changes from the previous version
Bound Armaments: Reworked this ability into an offensive skill. Activating the ability no longer grants Block Mitigation for 3 seconds, but instead puts a 40 second duration effect on you that summons a Bound dagger any time you deal damage with a Light or Heavy Attack, with a maximum of 4 weapons being able to be active at any given time. Reactivating the ability causes the weapons to prime and quickly seek your target after a short delay. The ability continues to passively increase your Maximum Stamina and damage dealt with Light Attacks.
---
Resource Management
Resource management is fairly easy on this setup once you get used to it. We already have built in sustain through Artaeum Buff Food and 2x Stamina Cost Reduction Glyphs on our jewelry. In addition to that you can also use Dark Deal which both gives stamina and health in exchange for magicka, we got plenty of magicka so we will always have resources to trade. On top of that you can also do heavy attacks and use potions in the right moments to boost your resources.
Artaeum Buff Food (or Dubious Camoran Drink)
Stamina Cost Reduction Glyphs
Heavy Attacks
Potions
---
PvP Setup
Unbuffed: Out of combat
Buffed: Hurricane, Forward Momentum, Weapon Damage Glyph, Tri Stat Potion and Troll King were active, Orc with Artaeum food.
Gear
Where can I get the gear?
Shaklebreaker: Craftable
Warrior's Fury: Cyrodiil
Troll King: Blessed Crucible, Glirion
Bone Pirate's Tatters: Blackheart Haven
Skills
| S&B Mainbar | 2H bar |
| --- | --- |
| Slot 1: Critical Surge | Slot 1: Forward Momentum |
| Slot 2: Dark Deal | Slot 2: Dizzying Swing |
| Slot 3: Power Slam | Slot 3: Executioner |
| Slot 4: Hurricane | Slot 4: Streak |
| Slot 5: Resolving Vigor | Slot 5: Bound Armaments |
| Ultimate: Spell Wall | Ultimate: Onslaught |
In case you don't know what what weaving light attacks is, make sure to check out the "Weaving Beginner Guide" which explains how to weave light attacks between abilities, aka animation canceling.
Championpoints
If you need help distributing your Champion Points, make sure to check out the Champion Points Calculator!
Championpoints [810]
The Ritual
49 Mighty, 50 Piercing, 22 Precise Strikes
The Atronach
73 Master-at-Arms, 27 Physical Weapon Expert, 20 Shattering Blows
The Apprentice
23 Blessed
The Shadow
61 Tumbling, 52 Shadow Ward
The Lover
49 Tenacity, 49 Mooncalf
The Tower
44 Warlord, 1 Siphoner, 14 Sprinter
The Lord
37 Quick Recovery
The Lady
43 Hardy, 43 Elemental Defender, 26 Thick Skinned
The Steed
61 Ironclad, 59 Resistant
Championpoints [600]
The Ritual
49 Mighty, 29 Piercing, 22 Precise Strikes
The Atronach
20 Shattering Blows, 34 Master-at-Arms, 23 Physical Weapon Expert
The Apprentice
23 Blessed
The Shadow
29 Tumbling, 29 Shadow Ward
The Lover
49 Mooncalf, 49 Tenacity
The Tower
29 Warlord, 1 Siphoner, 14 Sprinter
The Lord
37 Quick Recovery
The Lady
43 Hardy, 43 Elemental Defender, 26 Thick Skinned
The Steed
24 Resistant, 27 Ironclad
Championpoints [300]
The Ritual
11 Piercing, 49 Mighty
The Atronach
31 Master at Arms, 9 Physical Weapon Expert
The Apprentice
The Shadow
The Lover
49 Mooncalf, 49 Tenacity
The Tower
2 Warlord
The Lord
The Lady
23 Hardy, 23 Elemental Defender, 23 Thick Skinned
The Steed
27 Ironclad, 4 Resistant
Important Info for Stamina Sorcerer Build PvP
Buff-food
Preferably you want to use the Artaeum food because it has better stats and also includes HEALTH RECOVERY which is very important. The buff food is very expensive though, so your second options would be Dubious Camoran Throne.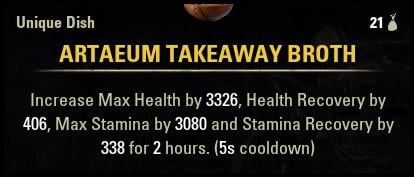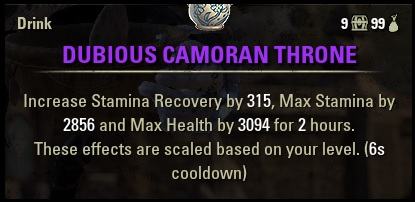 Mundus Stone
The Steed (Increased Health Recovery & Movement Speed 10%)
Race
All stamina based races work, I prefer an Orc nonetheless due to the extra 258 Weapon Damage, 2000 Stamina, 1000 Health and extra movement speed which works well together with the Steed Mundus and Minor Expedition 10% speedbuff from Hurricane.
Orc (Recommended)
Redguard
Imperial
Woodelf
Khajiit
Argonian
Potions
You can choose between a few potions, I usually recommend the Tri-Stat potions because they give a lot of extra magicka that we also need and the extra health can be used as a burst heal. The Immovability potions are nice if you want to go on offensive mode to not get interrupted while you push your combo. The Speed potions are nice if you need extra movement speed and a lot of extra healing.
Tri-Stat Potion
(Health, Stamina, Magicka)
(Bugloss, Columbine, Dragonthorn)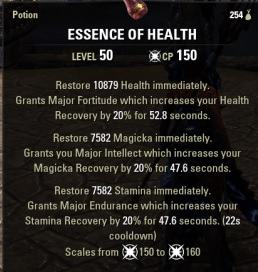 Essence of Immovability
(Stamina, Weapon Critical, CC Immunity)
(Wormwood, Columbine, Dragonthorn)
You can also use Essence of Speed which gives you speed, extra health recovery for the full duration and Major Vitality. The ingredients are super expensive though.
Essence of Speed
(Speedbuff, Restore Health, Major Vitality)
(Scrib Jelly, Dragon's Bile, Powdered Mother of Pearl)
Poisons
Damage Health Posion
(Damage Poison, Damage Poison)
(Fleshfly Larva, Nightshade, Nirnroot)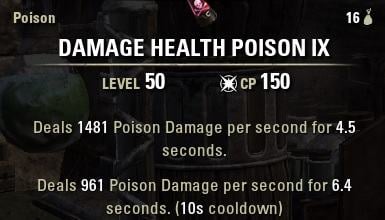 Passives
Dark Magic: Unholy Knowledge, Blood Magic, Persistence
Daedric Summoning: Power Stone, Daedric Protection
Storm Calling: Capacitor, Energized, Amplitude, Expert Mage
One Hand and Shield: Fortress, Sword and Board, Deadly Bash, Deflect Bolts, Battlefield Mobility
Two Handed: Forceful, Heavy Weapons, Balanced Blade, Follow Up, Battle Rush
Heavy Armor: Resolve, Constitution, Juggernaut, Revitalize, Rapid Mending
Medium Armor: Dexterity, Wind Walker, Athletics
Fighters Guild: Banish the Wicked
Undaunted: Undaunted Command, Undaunted Mettle
Racial: All
Assault: Continuous Attack, Reach, Combat Frenzy
Support: Magicka Aid, Combat Medic, Battle Resurrection
Alchemy: Medicinal Use
---
Battlegrounds
The setup changes with Battlegrounds because Champion Points are deactivated, therefore our max resources and sustain are way worse. So we are swapping out Warrior's Fury with Bone Pirate Tatters and change the buff food to go along with it. If that is not enough you can still change the Mundus Stone.
Buff Food
With this setup you always want to use Dubious Camoran Throne Drink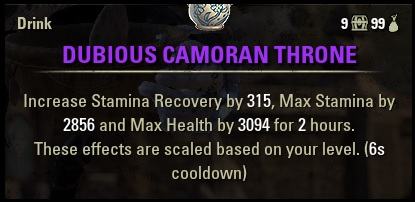 Mundus Stone
In case you still need extra sustain you could choose the Serpent Mundus Stone for extra stamina recovery.
---
Update Log
09.08.2019 ADDED the build for the Scalebreaker DLC, Elsweyr Chapter, Stamina Sorcerer Build PvP.
19.10.2019 Updated the build for the DRAGONHOLD DLC, Elsweyr Chapter.
Tags: Stamina Sorcerer PvP Build, Stamina Sorc PvP Build, Stam Sorc PvP Build, StamSorc PvP