"Dot-Doc"
Wolfhunter DLC, Summerset Chapter
Table of Contents
Introduction
Welcome to the Stamina Sorcerer PvP Build "Dot-Doc" for Elder Scrolls Online. Make sure to bookmark the link as I will keep updating the build for each new Update of ESO.
The Stamina Sorcerer PvP Build DW "Dot-Doc" is optimized for Battlegrounds. We have around 10 different DoTs that we can apply on the enemy to pressure them. The build is using Medium Armor with sets like Shacklebreaker, Viper's Sting, The Maelstrom's Battle Axe and Valkyn Skoria. We also use double DoT poisons, this already gives us access to 5 different damage over time effects only from sets and poisons.
To get even more Dots, we use abilities like Hurricane, Bloodcraze and Deadly Cloak. In addition, we also have our beloved Dark Deal which helps us with sustain and heals at the same time, that is why we have such a high magicka pool on this setups, along with the Streak ability to give us room to breath and stun enemies. You can play this build with a Two hander or a Bow on the backbar, it is easy adjustable.
Optimized for Battlegrounds
Medium Armor
High Pressue with Damage over Time Effects
DoT Build
Crazy Damage
Dualwield & 2 Hander or Bow
Playable in No CP and CP Campaign
Good Sustain
Strong Healing
Stamina Sorcerer Build PvP "Dot-Doc" – Summerset Chapter ESO
Changes from the previous version
Reminder: The Build video is from the Summerset Chapter patch. Small changes have been made in the Wolfhunter DLC update, as you can see here in the written guide.
Updated Champion Points and improved the Passive section.
Resource Management
Make sure to use heavy attacks on the dualwield bar, they do a lot of damage and you can sustain way better and focus on damage. I recommend being a Redguard as it helps tremendously with sustain. We also use the Serpent Mundus Stone and two Stamina Recovery and one Reduced Stamina cost glyph to make our sustain good. On top of that we still have Dark Deal which helps a lot and we can spam this ability quite a bit due to our high magicka pool.
Heavy Attacks
Redguard passive
Potions
Dark Deal
Cost Reduction/ Recovery Glyphs
Serpent Mundus Stone (Not Mandatory)
Battlegrounds Setup

Critical Surge, Weapon Damage Enchantment and Hurricane were active when I took the screenshot in the Non CP Campaign.
Gear
Gear Setup
Valkyn Skoria? Combined with all the Damage over Time effects this set procs a lot, also this set does insane damage and helps killing off targets with eaze.
Viper Dagger: You can find a named Viper Dagger drop in Fungual Grotto 2 called "Knife of Shadows".
Dualwield and 2H Axe: Both apply a seperate Bleed effect on the enemy, therefore we have another 2 additional DoTs.
Where can I get the gear?
Valkyn Skoria: City of Ash 2
Shackebreaker: Craftable
Viper's Sting: Fungual Grotto 1 & 2
Maelstrom Battle Axe: Maelstrom Arena
Master's Bow: Dragonstar Arena
Skills for PvP
Rapid Strikes vs Bloodthirst: You can use both morphs, if you want more healing than I suggest Bloodthirst.
Psijic Ulti: You can use that or slot Atronach or Werewolf on the backbar for more Stamina Recovery.
| Dualwield Mainbar | Two Hander bar |
| --- | --- |
| Slot 1: Deadly Cloak | Slot 1: Forward Momentum |
| Slot 2: Blood Craze | Slot 2: Stampede |
| Slot 3 Rapid Strikes | Slot 3: Dark Deal |
| Slot 4: Hurricane | Slot 4: Resolving Vigor |
| Slot 5: Streak | Slot 5: Critical Surge |
| Ultimate: Dawnbreaker of Smiting | Ultimate: Temporal Guard |
Championpoints
Championpoints [780 CP]
The Ritual
49 Mighty, 60 Piercing, 20 Precise Strikes, 40 Thaumaturge
The Attronarch
20 Shattering Blows, 28 Master-at-Arms
The Apprentice
43 Blessed
The Shadow
60 Tumbling, 43 Shadow Ward
The Lover
49 Tenacity, 49 Mooncalf
The Tower
51 Warlord, 8 Sprinter
The Lord
37 Quick Recovery
The Lady
37 Hardy, 37 Elemental Defender, 26 Thick Skinned
The Steed
71 Resistant, 52 Ironclad
Important Info for Stamina Sorcerer PVP Build
Buff-food
Longfin pasty with Melon Sauce (Max Health+Max Stamina+Max Magicka)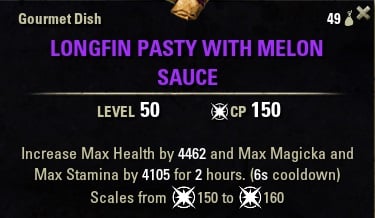 Mundus Stone
The Serpent (Stamina Recovery)
Race
Redguard (Recommended)
Imperial
Kahjiit
Orc
Potions
Immovable Potion
(Health,Stamina, CC Immunity)
(Columbine, Namiras Root, Mounntain Flower)
Immovable Potion (With speedbuff)
(Speedbuff ,Stamina, CC Immunity)
(Blessed Thistle, Columbine, Namiras Rot)
Essence of Speed
(Speedbuff, Restore Health/second)
(Scrib Jelly, Butterfly Wing, Namira's Rot)
Essence of Lingering Health
(Restore Health/second, Minor Protection, Major Vitality)
(Blessed Thistle, Powdered Mother of Pearl, Butterfly Wing)

Poisons
Damage Health Posion
(Damage Poison, Damage Poison)
(Fleshly Larva, Nightshade, Nirnroot)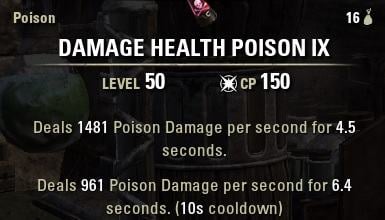 Passives
Dark Magic: Unholy Knowledge, Blood Magic, Persistence, Exploitation
Daedric Summoning: Rebate, Power Stone, Daedric Protection, Expert Summoner
Storm Calling: Capacitor, Energized, Implosion, Expert Mage
Dualwield: Slaughter, Dual Wield Expert, Controlled Fury, Ruffian, Twin Blade and Blunt
Two Handed: Forceful, Heavy Weapons, Balanced Blade, Follow Up, Battle Rush
Bow: Long Shots, Accuracy, Ranger, Hawk Eye, Hasty Retreat
Heavy Armor: Resolve, Constitution, Juggernaut
Medium Armor: Dexterity, Wind Walker, Improved Sneak, Agility, Athletics
Fighters Guild: Intimidating Presence, Slayer, Banish the Wicked, Skilled Tracker
Psijic Order: Clairvoyance, Spell Orb, Concentrated Barrier, Deliberation
Undaunted: Undaunted Command, Undaunted Mettle
Werewolf (optional): Pursuit, Blood Rage, Savage Strength, Call of the Pack
Racial: All
Assault: Continuous Attack, Reach, Combat Frenzy
Support: Magicka Aid, Combat Medic, Battle Resurrection
Alchemy: Medicinal Use
Gameplay
DoT-Doc in BGs Stam Sorc – Horns of the Reach
Update Log
02.08.2018 Updated Build for Wolfhunter DLC, Summerset Chapter Stamina Sorcerer PVP Build