"Beamplar"
Wrathstone DLC, Elsweyr Chapter
Table of Contents
Introduction
Welcome to the Magicka Templar Build PvE "Beamplar" for Elder Scrolls Online. Make sure to bookmark the link as I will keep updating the build for each new Update of ESO. The "Beamplar" build is made for PvE Trials, Arenas and Dungeons.
You will find two different setups for this build, a ranged and a melee build. The melee setup will deal slightly more dps, but the difference is not big. Now that we have Psijic abilities that we can use, we gain quite a bit of DPS, thanks to Elemental Weapon. With this skill we can first off go full ranged if we want to and it just deals an insane amount of damage compared to for example force pulse. The passives of the Psijic Order are also nice. If you do not have Psijic Order, you can still use the old skills like Force Pulse and Puncturing Sweeps.
High Single Target (ST) amage
High Area of Effect (AoE) Damage
Good sustain
Easy survivability due to magicka shield
Trials, Dungeons & Arenas
Changes from the previous version
Added some more race options. Added explanation when to use Shadow or the Thief Mundus Stone. Shadow got a buff:
Shadow Mundus: Increased the Critical Hit Damage bonus to 13% from 9%. Note that this still will not affect critical healing.
Solar Barrage received a huge buff, that will increase our dps a lot:
Increased the damage dealt by this morph by approximately 10%.
This ability now grants an infinite Empower bonus during the entire duration, instead of firing a single Empower bonus after each tick.
Destruction Staff
Ancient Knowledge: Removed the requirement of having a Destruction Staff ability slotted to gain the effect of this passive. Now, you simply need to equip the Destruction Staff type of the buff you want to gain the bonus it provides.
Resource Management
With only a few tweaks you can make sure to have good sustain, I will also tell you how you can find your own "sweetspot" for sustain. This patch we are using Channeled Focus which helps already a lot with sustain and it also gives us Spell & Armor resistance on top of that, this ability has to be activate all the times. Absorb Magicka Enchantment also helps with restoring resources. Heavy Attacks are also a great tool to restore resources, while we don't really need them for this build, if you really get into a situation where you dry out, use one or two heavy attacks. Clockwork Citrus Filet is also a good option, just make sure to adjust your health value if you want to use it. Now the last big thing that you can choose if you wish to tweak your sustain, Magicka Recovery Glyphs, usually you do not really need them but if you feel sustain is too low, get one of those to help you. Healers also have to constantly Energy Orb so you can activate the synergy and regain resources, this has a cooldown of 20 seconds.
Channeled Focus
Absorb Magicka Enchantment
Magicka Recovery Glyph
Heavy Attacks
Clockwork Citrus Filet
Trials & Dungeons Setup
Gear
You will find 3 different setups here. Setup 1 is the preferred setup. For people that do not have all the gear yet can use the Setup 2 which is easier to obtain and beginners can use Setup 3.
Setup 1 is with Trial Gear
Setup 2 is without Trial Gear
Setup 3 is for Beginners
Single Target vs AoE
Single Target Fight: Use the new Spell Strategist set that can be obtained in Rewards of the Worthy or bought via Guildstore.
AoE Fight: Keep using Mother's Sorrow. Spell Strategist is purely Single Target so it is not of much use in AoE fights.
Gear Setup 1
Spell Strategist: This is a very strong single target set. However, in AoE fights you better run Mother's Sorrow for more AoE damage. Also, the Spell Strategist extra spell damage does not show on the character screenshot.
Gear Setup 2
If you do not have access to trial gear yet, you can also run this setup here, all the gear is obtainable in Dungeons & Arenas.
Setup 3 Beginner
Where can I get the gear?
Perfect Mantle of Siroria: Cloudrest
Mantle of Siroria: Cloudrest
Mother's Sorrow: Deshaan
Spell Strategist: Rewards of the Worthy, Guildstore
Valkyn Skoria: City of Ash 2
Law of Julianos: Craftable
Magnus' Gift: Craftable
Willpower: Imperial City Vaults/ Guildstore
Asylum Perfected Inferno Staff: Asylum Sanctorium
Zaan: Scalecaller Peak
Maelstrom Inferno Staff: Maelstrom Arena
Skills
AoE Damage: You can either spam Blazing Spear or swap out one Inner Light for Puncturing Sweeps.
Ranged: If you can not stay melee just swap Solar Barrage out for Vampire's Bane.
| Fire Staff Mainbar | Fire Staff bar |
| --- | --- |
| Slot 1: Blazing Spear | Slot 1: Blockade of Fire |
| Slot 2: Solar Barrage/ Vampire's Bane | Slot 2: Channeled Focus |
| Slot 3 Elemental Weapon | Slot 3: Harness Magicka |
| Slot 4: Radiant Oppression | Slot 4: Spell Symmetry |
| Slot 5: Inner Light | Slot 5: Channeled Acceleration |
| Ultimate: Destro Ultimate | Ultimate: Crescent Sweep |
Important: It is very important that the Crescent Sweeps Ultimate stays on the backbar for the Aedric Spear passive Piercing Spear, otherwise you might lose the passive bonus.
Championpoints
If you need optimized defensive Champion Points for a specific trial I recommend checking out my Maximize Damage Mitigation in Trials Article.
75 in Thaumaturge is not a Jump Point?! That is correct, we put that many points there to get the Exploiter Perk that is unlocked with 75 points. You could put 6 more points there to get to the Jump Point at 81 and remove some from Spell Erosion.
Championpoints [810 CP]
The Ritual
75 Thaumaturge
The Atronach
48 Master-at-Arms, 6 Staff Expert
The Apprentice
56 Elemental Expert, 56 Elfborn, 29 Spell Erosion
The Shadow
52 Tumbling, 52 Shadow Ward
The Lover
100 Arcanist, 23 Tenacity
The Tower
43 Warlord
The Lord
The Lady
49 Hardy, 49 Elemental Defender, 48 Thick Skinned
The Steed
81 Ironclad, 43 Spell Shield
Championpoints [600 CP]
The Ritual
44 Thaumaturge
The Atronach
40 Master at Arms,
The Apprentice
49 Elemental Expert, 37 Elfborn, 30 Spell Erosion
The Shadow
20 Tumbling, 20 Shadow Ward
The Lover
75 Arcanist, 49 Tenacity
The Tower
36 Warlord
The Lord
The Lady
42 Hardy, 42 Elemental Defender, 40 Thick Skinned
The Steed
52 Ironclad, 24 Spell Shield
Championpoints [300 CP]
The Ritual
31 Thaumaturge
The Atronach
20 Master at Arms
The Apprentice
27 Elemental Expert, 20 Elfborn, 2 Spell Erosion
The Shadow
The Lover
49 Arcanist, 49 Tenacity
The Tower
2 Warlord
The Lord
The Lady
23 Hardy, 23 Elemental Defender, 23 Thick Skinned
The Steed
31 Ironclad
Important Info for Magicka Templar Build PvE
Here you can find information about what race, buff-food, potions & poisons you want to use. I also do list all the passives that you need for this setup.
Buff-food
As a Breton you can use the blue food, for all other races I do recommend using the gold food to increase sustain.
Solitude Salmon Millet Soup (Max Magicka, Max Health)
or
Clockwork Citrus Filet (Max Health, Max Magicka, Magicka Recovery, Health Recovery)
Mundus Stone
If you have below 53% crit chance (without thief equipped), then choose the Thief Mundus, if you are above then choose the Shadow Mundus. If you want an exact calculation on what you should use check out the Shadow vs Thief Article.
Shadow Mundus (Increased Spell Critical Damage)
or
Thief Mundus (Increased Spell Critical Chance)
Race
Altmer
Breton
Darkelf
Khajiit
Potions
Spell-Power Potions
(Spell-crit, Spell Damage, Magicka)
(Cornflower, Ladys Smock, Water Hyacinth)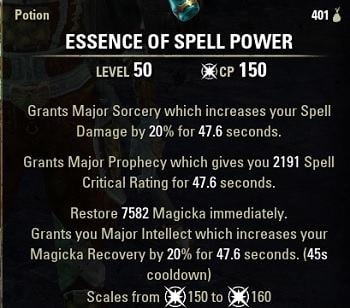 Passives
Aedric Spear: Piercing Spear, Spear Wall, Burning Light, Balanced Warrior
Dawn's Wrath: Enduring Rays, Prism, Illuminate, Restoring Spirit
Restoring Light: Mending, Sacred Ground, Light Weaver, Master Ritualist
Destruction Staff: Tri Focus, Penetrating Magic, Elemental Force, Ancient Knowledge, Destruction Expert
Light Armor: Grace, Evocation, Spell Warding, Prodigy, Concentration
Heavy Armor: Resolve, Constitution, Juggernaut
Vampire (optional): Supernatural Recovery, Undeath, Dark Stalker
Fighters Guild: Banish the Wicked, Skilled Tracker
Mages Guild: Mage Adept, Everlasting Magic, Magicka Controller, Might of the Guild
Psijic Order: Clairvoyance, Spell Orb, Concentrated Barrier, Deliberation
Undaunted: Undaunted Command, Undaunted Mettle
Racial: All
Alchemy: Medicinal Use
Attributes
All into Magicka
Puncturing Sweeps
I can highly recommend running Puncturing Sweep in certain situations, for example if you are playing solo or in group dungeons. Puncturing Sweeps has a strong heal attached to it while you deal damage, this can be very helpful.
Rotation & Skeleton Parse
Rotation
Before you start the fight apply Channeled Focus and Channeled Acceleration.
Drop your Destro Ultimate and do one Light Attack, then continue with:
Blazing Spear > Weapon Swap >
LA > Blockade of Fire > Weapon Swap >
LA > Solar Barrage > 5x Elemental Weapon (With LA) > Blazing Spear > Weapon Swap >
Restart
Reapply Channeled Focus & Channeled Acceleration whenever it runs out, if you do so only use 4x Elemental Weapon weaves instead of 5.
You can use Channeled Acceleration or Rearming Trap, whatever you prefer for Minor Force buff. I usually prefer Channeled Acceleration as you can reapply the buff when you reposition yourself fairly easy on boss fights.
LA = Light Attack
When to use Destro Ulti vs Crescent Sweep? Always use Destro Ulti, unless you will not get a Destro Ulti fully charged, then use the Crescent Sweep.
Execute (20% and below)
During Execute only keep Blazing Spear and Blockade of Fire up. Once those DoTs are placed use Jesus Beam till you have to reapply DoTs again.
Skeleton Parse
You can find the video of the dummy parse with this timestamp here, it is part of the Build Video. Keep in mind, this parse is from the Murkmire DLC.
I am going to standardize most of my dps tests and therefore will include, the uptimes can varry a bit:
Minor Vulnerability (8% more damage while enemy is concussed) has an average uptime of around 95%.
Off Balance (10% more damage by Exploiter Perk in CP is active) has a max of 25% uptime, Exploiter perk is active on this build.
Energy Orbs to showcase the sustain of the class in a trial
Minor Berserk (8% more overall damage) from Combat Prayer
Blackrose Prison Arena
This section of the build is dedicated to the Blackrose Prison Arena, it is a bit different compared to the usual Trial and Dungeon setup due to how the Arena works and because you fight such a huge amount of enemies each wave.
Gear Setup
Alternative Gear Setups
Skill Setup
Gear Setup
Skills
Make sure to keep your DoTs up and use Sweeps for nice cleave damage. Recast buffs between waves if possible.
Maelstrom Arena
If you are new to Maelstrom Arena, I highly recommend checking out the full Maelstrom Arena Veteran Guide! Always make sure to start a new wave off with a Heavy Attack to restore a lot of resources! If you still have resource issues use Clockwork Citrus Filet Food.
Gear
If you do not have a Perfected Asylum Staff you can also use a Non-Perfected Asylum Staff.
Skills
If you have issues with healing, you can always slot Breath of Life instead of Inner Light. However, Puncturing Sweeps should be enough to heal you.
Build Video & Gameplay
Build Video
You can find the full build video, explanation of rotation and a full DPS parse on a 6 million dummy in the video. This video is from the Murkmire DLC, a new build video will be created with the Elsweyr Chapter release.
Magicka Templar Build [60k DPS] – Murkmire DLC
Gameplay
Keep in mind, some videos might be from older patches and therefore the build can look different.
Blackrose Prison Arena with Magicka Templar
Blackrose Prison Arena with Magicka Templar – Murkmire DLC
Fang Lair with Magicka Templar
Thurvokun Hardmode in Fang Lair Vet Dungeon – Dragon Bones PTS
Maelstrom Arena with Magicka Templar
Maelstrom Arena Veteran Magicka Templar – Clockwork City ESO
Update Log
24.02.2019 Updated Build for Wrathstone DLC, Elsweyr Chapter. Magicka Templar Build PvE
28.02.2019 Added explanation on when to use Shadow or Thief Mundus Stone
03.03.2019 Changed the value from thief vs shadow to 53% from 65%.
03.03.2019 Changed Frontbar Staff from Infused to Precise, as it deals slightly more damage.