"Flamebreaker"
Updated: Dragonhold DLC, Elsweyr Chapter
Type: Solo Cyrodiil & Battlegrounds
Table of Contents
Introduction
Welcome to the Magicka Dragonknight Build PvP "Flamebreaker" for Elder Scrolls Online. Make sure to bookmark the link as I will keep updating the build for each new Update of ESO. The "Flamebreaker" Build is optimized for Cyrodiil and Battlegrounds, you can find both setups on this page, only small adjustments are needed!
This Magicka Dragonknight PvP Build focuses on high burst damage and high max resources. Having a lot of health in Cyrodiil is very powerful, because the incoming damage can be huge and that way you will not instantly bite the dust. Magicka DKs have a lot of healing power, therefore going light armor is possible, you just have to learn to keep up all your heal over time abilities. To get our nice stats we are using Shacklebreaker, Bright-Throat's Boast and Bloodspawn. Bloodspawn is an essential part to the build, because if you can generate ultimate faster, you can use more ultimates and therefore the Battle Roar passive will proc a lot more which gives you extra sustain.
Cyrodiil & Battlegrounds
Light Armor Destro/ Resto Build
Crazy Burst Damage
Good Sustain
Good Healing
---
Changes from the previous version
No major changes to the build.
Searing Strike:
This ability and its morphs now last 10 seconds at base, up from 8 seconds.
Increased the base cost to 2970, up from 2160.
This ability and its morphs have gained the new functionality of immediately applying their respective status effect to the enemy upon cast.
Reduced the damage per tick of the Damage over Time portion of the ability.
---
Resource Management
With this build, a lot of sustain is already built in thanks to the Bright-Throat's Boast set in combination with the Double Bloody Mara Drink. Dragonknights also have unique passives like Battle Roar, that help a lot with sustain whenever you activate an ultimate. You can also do heavy attacks on the Resto Staff bar to regain a lot of magicka. On top of that, you can also use your potion to get an instant 7000 magicka on top of other useful stats. Being a Breton is also nice because it gives 7% extra cost reduction, this is not mandatory though.
Bright Throat's Boast + Bloody Mara
Battle Roar
Heavy Attacks
Potion
If you still struggle with sustain, you could always replace the Spell Damage Glyph on the Infused Jewelry piece with a Spell Cost Reduction Glyph.
---
Cyrodiil Setup
Unbuffed: Out of combat
Buffed: Major Sorcerery, Essence of Spell Critical Potion, Volatile Armor, Bloodspawn and Weapon Damage Glyph was active. Breton with Bloody Mara Drink.
Gear
Bright Throat's Boast in combination with Double Bloody Mara Drink is hands down one of the best combos in the game currently, it gives you so much sustain and max health which is basically the most important stat in Cyrodiil.
If you can not transmute your jewelry, just run arcane, that will also do the job.
If you have sustain issues, you can always run a Spell Cost Reduction Glyph on the infused Jewelry.
Where can I get the gear?
Shacklebreaker: Craftable
Bright-Throat's Boast: Murkmire Overland, Blackrose Prison, Guildstore
Bloodspawn: vet Spindleclutch II, Maj Undaunted Chest
Skills
| Fire Staff Mainbar | Resto Staff bar |
| --- | --- |
| Slot 1: Cauterize | Slot 1: Harness Magicka |
| Slot 2: Burning Embers | Slot 2: Radiating Regeneration |
| Slot 3: Flame Lash/ Molten Whip | Slot 3: Healing Ward |
| Slot 4: Elemental Drain | Slot 4: Volatile Armor |
| Slot 5: Fossilize | Slot 5: Degeneration |
| Ultimate: Ferocious Leap | Ultimate: Life Giver |
Skill Explanation:
Cauterize: Gives you Major Prophecy 10% Spell Crit, that is why we run it on the front bar, also applies a lot of healing and can be used as a burst heal if needed.
Burning Embers: High Single Target DoT, depending on how much damage you do to the target, about 79% gets applied as healing to yourself.
Flame Lash: Your main spammable, deals a lot of damage and once an enemy is set off balance, you also gain a huge burst heal and increased damage. You can also run the other morph if you want.
Elemental Drain: Free of cost when applied to the enemy, increases your sustain and damage by a huge margin.
Fossilize: Your main CC tool, this ability can not be blocked or dodge rolled, so you can very easily stun your enemy, especially effective when you use Fossilize into a Leap Ultimate combo.
Ferocious Leap: Very strong burst Ultimate, plus also applies a big shield to you.
Harness Magicka: Keep this up as much as possible, decent sized shield that absorbs damage.
Radiating Regeneration: Very strong Heal over Time that you always need on yourself.
Healing Ward: Defensive shield, the lower your health, the bigger the shield will get, this is a life saver and can be spammed if you are low on health.
Volatile Armor: This has to be up all the time, gives you Major Resistances, increased healing and also a bit of damage.
Degeneration: Strong damage over time effect and also gives us Major Sorcery, increasing Spell Damage by 20%.
Life Giver: In case you are under a lot of pressure, activate this ultimate, it gives a lot of extra healing and defensive buffs.
In case you don't know what what weaving light attacks is, make sure to check out the "Weaving Beginner Guide" which explains how to weave light attacks between abilities, aka animation canceling.
Championpoints for Magicka Dragonknight Build PvP
If you need help distributing your Champion Points, make sure to check out the Champion Points Calculator!
Championpoints [810]
The Ritual
40 Thaumaturge
The Atronach
52 Master-at-Arms, 9 Shattering Blows, 11 Staff Expert
The Apprentice
49 Elemental Expert, 40 Elfborn, 46 Spell Erosion, 23 Blessed
The Shadow
56 Tumbling, 48 Shadow Ward
The Lover
49 Arcanist, 49 Mooncalf
The Tower
44 Warlord, 23 Sprinter, 1 Siphoner
The Lord
32 Quick Recovery
The Lady
43 Hardy, 37 Elemental Defender, 31 Thick Skinned, 19 Light Armor Focused
The Steed
61 Ironclad, 47 Resistant
Championpoints [600]
The Ritual
29 Thaumaturge
The Atronach
28 Master at Arms, 11 Staff Expert, 9 Shattering Blows
The Apprentice
49 Elemental Expert, 28 Elfborn, 23 Spell Erosion,
The Shadow
26 Tumbling, 25 Shadow Ward
The Lover
49 Arcanist, 49 Warlord
The Tower
27 Warlord, 1 Siphoner, 23 Sprinter
The Lord
32 Quick Recovery, 6 Expert Defender
The Lady
43 Hardy, 21 Elemental Defender, 31 Thick Skinned, 13 Light Armor Focused
The Steed
29 Ironclad, 25 Resistant
Championpoints [300]
The Ritual
13 Thaumaturge
The Atronach
11 Master at Arms, 9 Shattering Blows, 8 Staff Expert
The Apprentice
20 Elemental Expert, 11 Elfborn, 9 Spell Erosion, 19 Blessed
The Shadow
11 Tumbling, 11 Shadow Ward
The Lover
27 Arcanist, 24 Mooncalf
The Tower
13 Warlord, 1 Siphoner, 13 Sprinter
The Lord
23 Quick Recovery, 6 Expert Defender
The Lady
19 Hardy, 9 Elemental Defender, 13 Thick Skinned
The Steed
11 Ironclad, 9 Resistant
Important Info for Magicka Dragonknight Build PvP
Buff-food
You need to use Double Bloody Mara in combination with the Bright-Throat's Boast set. That way we benefit from really high stats and extra magicka recovery.
You can buy this Drink in the stores, it is fairly cheap.
You can also use the advanced version which gives you additional very valuable health recovery on top.
Mundus Stone
The Apprentice (Increased Spell Damage)
Race
With this build, you can actually choose any magicka based race. I prefer Breton because it makes sustain a lot easier due to the 7% Spell Cost reduction, 2000 Magicka, 100 Magicka Recovery and extra resistances are also nice. You can also check out my ESO Race Guide if you want to know the passives of each of the recommended races.
Breton
Altmer
Darkelf
Argonian
Potions
You can choose between two potions on this setup, offensive you want to use the Immovability Potion to give you the CC Immunity and boost to health and magicka, that way you can not be interrupted and pull off your combo! Defensive wise you want to use the Tri Stat Potion, to get that extra Stamina to dodge roll or block more.
Essence of Immovability
(CC Immunity Magicka, Health)
(Columbine, Bugloss, Namira's Rot)
Tri-Stat Potion
(Health, Stamina, Magicka)
(Bugloss, Columbine, Dragonthorn)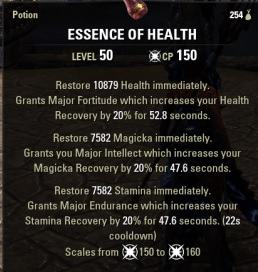 Poisons
I do run Poisons on the backbar, the nice thing about being a Dragonknight is, that when these poisons proc the poisoned status effect, you benefit from the Combustion passive, thus increases your stamina sustain slightly so you can dodge roll or block more.
Damage Health Posion
(Damage Poison, Damage Poison)
(Fleshfly Larva, Nightshade, Nirnroot)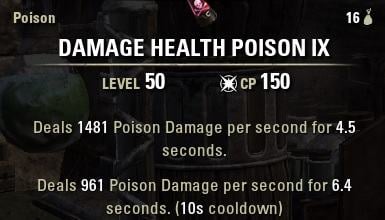 Passives
Ardent Flame: Combustion, Warmth, Searing Heat, World in Ruin
Draconic Power: Iron Skin, Burning Heart, Elder Dragon, Scaled Armor
Earthen Heart: Eternal Mountain, Battle Roar, Mountain's Blessing, Helping Hands
Destruction Staff: Tri Focus, Penetrating Magic, Elemental Force, Ancient Knowledge, Destruction Expert
Restoration Staff: Essence Drain, Restoration Expert, Cycle of Life, Absorb, Restoration Master
Light Armor: Grace, Evocation, Spell Warding, Prodigy, Concentration
Heavy Armor: Resolve, Constitution, Juggernaut
Fighters Guild: Banish the Wicked
Mages Guild: Mage Adept, Everlasting Magic, Magicka Controller, Might of the Guild
Undaunted: Undaunted Command, Undaunted Mettle
Assault: Continuous Attack, Reach, Combat Frenzy
Support: Magicka Aid, Combat Medic, Battle Resurrection
Racial: All
Alchemy: Medicinal Use
---
Battlegrounds Setup
For the Battlegrounds setup, we have to change buff food and the mundus stone. Because in Battlegrounds the Champion Points are deactivated, making it harder to sustain and our overall stats will drop a lot.
In case the buff food and mundus change is not enough, you can also run a Spell Cost Reduction Glyph on your Infused Jewelry Piece.
Buff Food
Instead of Double Bloody Mara we are going to use the Witchmother's Potent Brew. This is also a drink and will work together with the Bright Throat's Boast Set.
Witchmother's Brew (Max Health, Max Magicka, Magicka Recovery)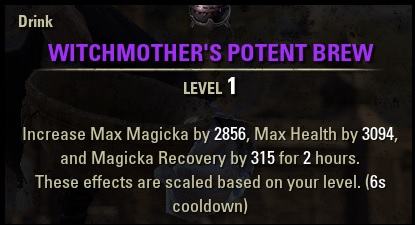 Mundus Stone
Instead of the Apprentice Mundus Stone you want to use the Atronach Mundus Stone, this one gives you extra Magicka Recovery.
---
Gameplay
This here is footage from Battlegrounds, the footage is a bit older so the build changes slightly but you still should get the idea of how to play a Magicka DK.
Magicka Dragonknight PvP "Eruption" Gameplay - Summerset Chapter
Update Log
09.08.2019.2019 ADDED Build for the Scalebreaker DLC, Elsweyr Chapter, Magicka Dragonknight Build PvP.
19.10.2019 Updated the build for the DRAGONHOLD DLC, Elsweyr Chapter.
Tags: Magicka Dragonknight PvP Build, Magicka DK PvP Build, Mag DK PvP Build.