"Colossus"
Elsweyr Chapter
Table of Contents
---
Introduction
Welcome to the Necromancer Tank Build PvE "Colossus" for Elder Scrolls Online. Make sure to bookmark the link as I will keep updating the build for each new Update of ESO. The Necromancer Tank Build PvE "Colossus" is optimized for Dungeons & Trials. Keep in mind there is a huge variety of different tank builds out there that synergize well depending on your group setup. Remember, each Dungeon or Trial needs some small adjustments to the build. So if you for example feel that you need more health, then go for it!
Necromancer Class
Trial, Dungeon & Arena
Tank/ Support Build
Heavy Armor
Great sustain
Great survivability
Great self healing
---
Changes from the previous version
This build was added with the Elsweyr Chapter. If you want more information on the Necromancer please check out https://alcasthq.com/eso-necromancer-class/
---
Resource Management
TBA
---
Dungeon & Trial Setup
Gear
Remember that there is a ton of good Tank sets to choose from. Here are a few good sets to list them up:
Gear Setup
Monster Sets: There are various Monster sets that you can wear along with this combination, you can use Mighty Chudan, Pirate Skeleton, Bloodspawn, Vykosa etc.
Beginner Gear Setup
This beginner setup is here for people that do not have access to the other setup now. You can ask a friend to craft Fortified Brass and Torug's Pact for you. You could also use Plague Doctor instead of Torug's Pact as it is very cheap available in the Guild Stores.
Where can I get the gear?
Ebon Armory: Crypts of Hearts
Roar of Alkosh: Maw of Lorkhaj
Bloodspawn: Spindleclutch 2
Lord Warden: Imperial City Prison
Mighty Chudan: Ruins of Mazzatun
Fortified Brass: Craftable
Torug's Pact: Craftable
Night's Silence: Craftable
Plague Doctor: Deshaan, Guildstore
 Skills
| S&B Mainbar | S&B off-bar |
| --- | --- |
| Slot 1: Agony Totem | Slot 1: Curative Boon |
| Slot 2: Heroic Slash | Slot 2: Expunge and Vivify |
| Slot 3: Pierce Armor | Slot 3: Avid Boneyard |
| Slot 4: Spirit Ward | Slot 4: Inner Rage |
| Slot 5: Deep Thoughts/ Spell Symmetry | Slot 5: Beckoning Armor |
| Ultimate: Aggressive Warhorn | Ultimate: Ravenous Goliath |
Championpoints
If you need optimized defensive Champion Points for a specific trial I recommend checking out my Maximize Damage Mitigation in Trials Article.
Championpoints [810 CP]
The Ritual
The Attronarch
47 Physical Weapons Expert, 73 Master-at-Arms
The Apprentice
100 Blessed, 48 Elfborn, 2 Spell Erosion
The Shadow
81 Shadow Ward, 60 Tumbling
The Lover
43 Tenacity
The Tower
56 Warlord, 21 Bashing Focus, 9 Sprinter
The Lord
32 Quick Recovery
The Lady
49 Hardy, 49 Elemental Defender, 48 Thick Skinned
The Steed
66 Ironclad, 26 Spellshield
Championpoints [600 CP]
The Ritual
26 Precise Strikes, 1 Piercing
The Attronarch
73 Master-at-Arms
The Apprentice
100 Blessed
The Shadow
100 Shadow Ward, 50 Tumbling
The Lover
The Tower
50 Warlord
The Lord
The Lady
49 Hardy, 49 Elemental Defender, 23 Thick Skinned
The Steed
61 Ironclad, 18 Spell Shield
Championpoints [300 CP]
The Ritual
The Attronarch
The Apprentice
100 Blessed
The Shadow
44 Shadow Ward
The Lover
43 Arcanist
The Tower
13 Warlord
The Lord
The Lady
27 Hardy, 27 Elemental Defender, 2 Thick Skinned
The Steed
44 Ironclad
Important Info for Necromancer Tank Build PvE
Buff-food
Longfin pasty with Melon Sauce (Max Health+Max Stamina+Max Magicka)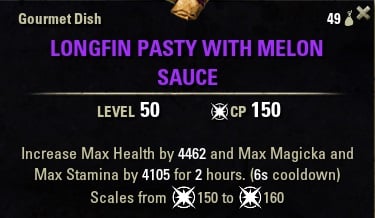 Mundus Stone
The Lord (Max Health)
Race
Nords: Please keep in mind, if you are a Nord you have more resistances than on other races because of your passives.
Nord (Recommended, fastest ultimate generation)
Argonian (Recommended, best sustain)
Imperial
Orc
Redguard
Potions
Tri-Stat Potion
(Health, Stamina, Magicka)
(Bugloss, Columbine, Mountain Flower)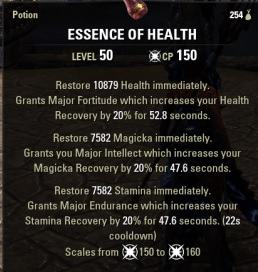 Passives
Grave Lord: Reusable Parts, Death Knell, Dismember, Rapid Rot
Bone Tyrant: Death Gleaning, Disdain Harm, Health Avarice, Last Gasp
Living Death: Curative Curse, Near-Death Experience, Corpse Consumption, Undead Confederate
Destruction Staff: Penetrating Magic, Elemental Force, Ancient Knowledge, Destruction Expert
Heavy Armor: Resolve, Constitution, Juggernaut, Revitalize, Rapid Mending
Medium Armor: Dexterity, Wind Walker, Athletics
Light Armor: Grace, Evocation, Spell Warding
Vampire: Supernatural Recovery, Undeath, Dark Stalker
Fighters Guild: Banish the Wicked
Mages Guild: Mage Adept, Everlasting Magic, Magicka Controller
Undaunted: Undaunted Command, Undaunted Mettle
Racial: All
Alchemy: Medicinal Use
Note: Make sure to NOT activate the Tri-Focus passive from the Destruction Staff, because we want blocking to cost stamina and not magicka. And that passive would convert blocking to magicka on the Destruction Staff bar.
Attributes
You have to make sure to have a bit more Stamina than Magicka. Because of the Synergies you pick up give you back whatever stat is higher. You can change this to your liking, if you do not need that much health, get more stamina.
24 Magicka, 0 Health, 40 Stamina
---
Build Video
TBA
Related Topics
---
Update Log
10.04.2018 Added Necromancer Tank Build BETA version for Elsweyr Chapter.