Anti Werewolf Build "Wolfbane"
Archived
Last updated: Wolfhunter DLC, Summerset Chapter
Reason: I had too many Stamina Nightblade PvP Builds on the website.
Table of Contents
Introduction
Welcome to the Stamina Nightblade Build PvP "Wolfbane" for Elder Scrolls Online. Make sure to bookmark the link as I will keep updating the build for ESO.
This build is focusing in maximizing damage against Werewolves while avoiding damage via roots, snares, cloaking and dodgerolling. We maximize damage with Poison and Fighters Guild abilities. Werewolves will also have issues hitting us as we have a fast paced and dodgy setup with this build. Werewolves are huge, deal a lot of damage but they usually lack sustain and that is where we come into play with this build. We have a lot of ways to immobilize the enemy, therefore making it hard to actually hit us and at the same time it will drain their resources because they have to free themselves from the roots. You need to know your ways with how cloak works, otherwise you will have a hard time surviving the hard hitting Werewolf abilities. We use Eternal Hunt to make it hard for the enemy to actually catch and hit us, plus the set deals poison damage which Werewolves are more vulnerable to than normal enemies, they take 20% more damage from poison damage. In addition, we use the Sheer Venom that applies even more pressure via poison damage on the enemy, guaranteed damage over time. As Monster Set we use The Troll King to give us some additional healing which is needed against Werewolves due to their hard hitting abilities and bleed over time effects.
Optimized for Battlegrounds
Battlegrounds & Cyrodiil
High mobility
High burst Damage
High Damage vs Werewolves
Anti-Werewolf Build
Insane sustain
Medium Armor
Two Hander/ Bow Setup
Let the hunt begin! Anti-Werewolf Nightblade Build PROTOTYPE for Wolfhunter DLC
Changes from the previous version
New build introduced with the Wolfhunter DLC in the Summerset Chapter.
Resource Management
As you can see we have insane recovery stats on both setups, so you should be able to sustain pretty good. More important is that you learn how to manage your Magicka propperly, because we use this to escape with either Cloak or the Shadow Image.
Dubious Camoran Throne
Siphoning Strikes (if needed)
Stamina Recovery Glyphs
Cyrodiil & Battlegrounds Setup

Relentless Focus, Weapon Crit Potion, Rally and Stealth Passive were active when I took the Screenshot, CP Campaign
Gear
Gear Setup
Where can I get the gear?
Eternal Hunt:: Craftable
Sheer Venom: Imperial City Prison
Troll King: Blessed Crucible
Master's Bow: Dragonstar Arena vet
Viper's Sting: Fungual Grotto 1 & 2
Skills
Backbar Ultimate: I like to slot Temporal Guard there, it gives us 8% damage mitigation thanks to Minor Protection while slotted and we can escape pretty tricky situations with this easily.
Silver Shards: You can also use Silver Leash or Surprise Attack
| Two Hander Mainbar | Bow bar |
| --- | --- |
| Slot 1: Rally | Slot 1: Shadowy Disguise |
| Slot 2: Ambush | Slot 2: Draining Shot |
| Slot 3: Silver Shards | Slot 3: Poison Injection |
| Slot 4: Relentless Focus | Slot 4: Rearming Trap |
| Slot 5: Vigor | Slot 5: Piercing Mark |
| Ultimate: Flawless Dawnbreaker/ Incapacitating Strike | Ultimate: Temporal Guard |
Championpoints
Championpoints [780 CP]
Why so much points in Attronarch Constellation? We want to get the Tactician Perk, to get 10% more damage on enemies with the Exploiter Perk from the Ritual Constellation.
The Ritual
43 Mighty, 40 Precise Strikes, 57 Piercing
The Attronarch
28 Shattering Blows, 61 Master-at-Arms, 31 Physical Weapon Expert
The Apprentice
The Shadow
27 Befoul, 70 Tumbling
The Lover
64 Mooncalf, 37 Arcanist
The Tower
61 Warlord, 1 Siphoner
The Lord
23 Quick Recovery
The Lady
43 Hardy, 43 Elemental Defender, 37 Thick Skinned
The Steed
56 Ironclad, 58 Resistant
Championpoints [300 CP]
The Ritual
43 Mighty, 57 Piercing
The Attronarch
The Apprentice
The Shadow
The Lover
49 Mooncalf
The Tower
51 Warlord
The Lord
The Lady
23 Hardy, 23 Elemental Defender, 23 Resistant
The Steed
31 Ironclad
Important Info for Stamina Nightblade Build PvP Wolfbane
Buff-food
Longfin pasty with Melon Sauce (Max Health+Max Stamina+Max Magicka)
or
Dubious Camoran Throne (Max Health+Max Stamina+Stamina Recovery)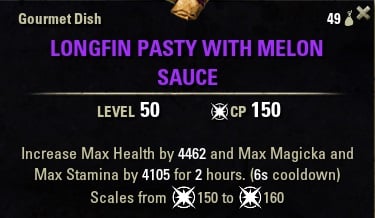 Mundus Stone
The Warrior (Increased Weapon Damage)
or
The Serpent (Increased Stamina Recovery)
Race
Woodelf (Recommended)
Kahjiit
Redguard
Imperial
Orc
Potions
Tri-Stat Potion
(Health, Stamina, Magicka)
(Bugloss, Columbine, Dragonthorn)
Immovable Potion
(Health,Stamina, CC Immunity)
(Columbine, Namiras Root, Mounntain Flower)
Immovable Potion (With speedbuff)
(Speedbuff ,Stamina, CC Immunity)
(Blessed Thistle, Columbine, Namiras Rot)
In case you are still unsure on how to mix the ingredients together, you can check out a alchemy simulator here: Alchemy Simulator.
Poisons
Escapist Poison
(Immobilize, Speed reduction, Drain Stamina)
(Blessed Thistle, Columbine, Namiras Rot)
Passives
Assassination: Master Assassin, Executioner, Pressure Points, Hemorrhage
Shadow: Refreshing Shadows, Shadow Barrier, Dark Vigor, Dark Veil
Siphoning: Catalyst
Two Handed: Forceful, Heavy Weapons, Balanced Blade, Follow Up, Battle Rush
Bow: Long Shots, Accuracy, Ranger, Hawk Eye, Hasty Retreat
Medium Armor: Dexterity, Wind Walker, Improved Sneak, Agility, Athletics
Heavy Armor: Resolve, Constitution, Juggernaut
Fighters Guild: Intimidating Presence, Slayer, Banish the Wicked, Skilled Tracker
Racial: All
Assault: Continuous Attack, Reach, Combat Frenzy
Support: Magicka Aid, Combat Medic, Battle Resurrection
Alchemy: Medicinal Use
Psijic Order: Clairvoyance, Spell Orb, Concentrated Barrier, Deliberation
Undaunted: Undaunted Command, Undaunted Mettle
Update Log
15.07.2018 Added Prototype Build for the Wolfhunter DLC in the Summerset Chapter, Stamina Nightblade Wolfbane Build